Samsung Wins Contract for Thailand Olefins Project
|
Wednesday, January 24, 2018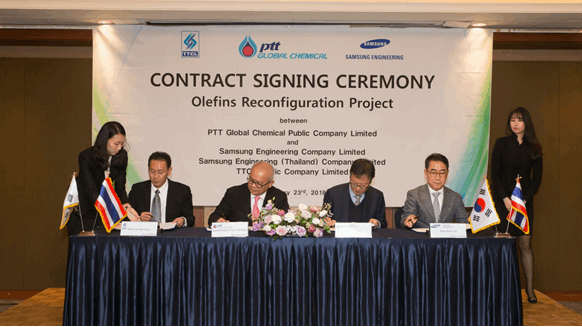 Officials with PTTGC and Samsung Engineering sign the EPCC contract for the former's Olefins Reconfiguration Project. SOURCE: Samsung Engineering.
Thailand's state-owned PTT Global Chemical Public Co. (PTTGC) has awarded Samsung Engineering Co., Ltd. a $790 million engineering, procurement, construction and commissioning (EPCC) contract for its Olefins Reconfiguration Project (ORP), Samsung Engineering reported Wednesday.
"We have successfully delivered numerous … projects to Thailand for more than 20 years," Sungan Choi, Samsung Engineering's president, said in a written statement. "The award …is not only a result of our project execution capabilities and proven track record in Thailand, but furthermore shows the trust PTTGC has in us to deliver projects efficiently."
Samsung Engineering stated that it will execute the EPCC contract on a lump-sum turnkey basis. The $820 million ORP plant will produce 500,000 tons per annum of ethylene through the major naphtha cracker unit and produce 250,000 tons per annum of propylene. Samsung noted that work on the plant should conclude by the end of 2020.
PTTGC has stated that it is developing ORG, located in Map Ta Phut in Thailand's Rayong province, to spur other downstream investments in the country's Eastern Economic Corridor.
Generated by readers, the comments included herein do not reflect the views and opinions of Rigzone. All comments are subject to editorial review. Off-topic, inappropriate or insulting comments will be removed.