Saipem Testing Underwater Drone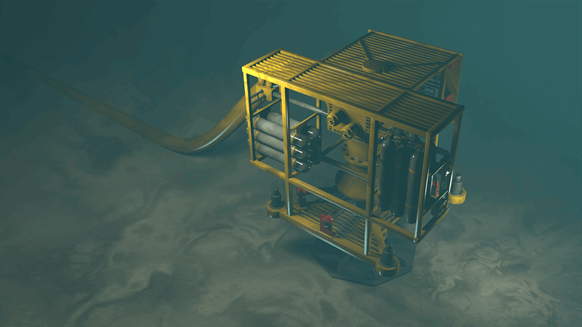 Saipem's Sonsub division is testing a new subsea robotics technology.
Saipem's Sonsub division launched its "Hydrone-R" underwater intervention drone on July 1 to begin endurance and qualification tests, Saipem reported Friday.
Through its Hydrone Program, Saipem aims to use subsea robotics to dramatically change how underwater inspections and interventions are performed by using a fleet of next-generation drones and advanced ancillary equipment, the company explained in a written statement emailed to Rigzone. Executed by Sonsub, the program will commercialize three vehicles on a staggered basis through 2020.
"The core technologies embedded onboard Hydrone-R are at the forefront of the industry and they will certainly mark a step-change into the Life of Field business," stated Stefano Porcari, chief operating officer of Saipem's Engineering and Construction Offshore Division. "Safety and operational efficiency will both dramatically benefit from Hydrone-R and the entire Hydrone Program in the years to come."
Calling it the "first ever resident subsea drone," Saipem noted that Hydrone-R can remain underwater without interruption for 12 months. The vehicle's onboard sensors and proprietary artificial intelligence features reportedly enable it to perform light construction work and conduct advanced inspections on subsea assets. The firm asserts the drone reduces the oil and gas industry's reliance on offshore support vessels and more remote operations.
Saipem contends the drone can autonomously detect anomalies on a wide range of subsea systems. Moreover, the company reports the vehicle can be operated wirelessly and uses through-water communication links to cover an area with a 10-kilometer radius to perform inspections and interventions. Recharging the vehicle at intermediate subsea docking stations expands the coverage area, Saipem added.
"We are proud to be the forerunner in this technology," noted Roberto Di Silvestro, head of Sonsub. "Our extensive qualification test campaign has been thoroughly scrutinized by DNV GL and other reputable experts in order to attain a third-party qualification for subsea resident use by November 2019. Having something that can intervene in an autonomous way will reduce vessel costs and the overall carbon footprint for sure, but it will also improve the uptime of a subsea asset thanks to the capability of the Hydrone-R to intervene faster and more efficiently."
Saipem stated the Hydrone-R subsea robotics technology will be commercialized by the end of this year. Descriptions of the other two vehicles in the program appear on the company's website.
Generated by readers, the comments included herein do not reflect the views and opinions of Rigzone. All comments are subject to editorial review. Off-topic, inappropriate or insulting comments will be removed.