Saipem Makes Subsea Robotics Deal with Equinor
|
Wednesday, October 02, 2019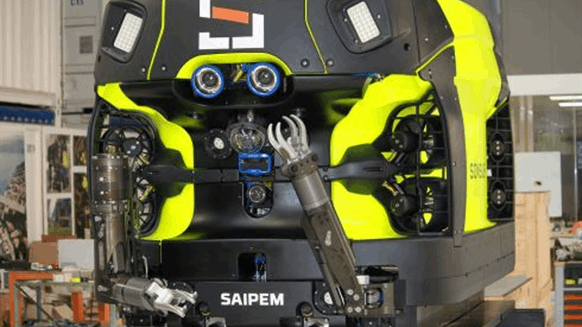 Saipem's Hydrone-R, above, is set to make history. PHOTO SOURCE: Saipem
Saipem reported Wednesday that it has signed the oil and gas industry's first-ever worldwide service contract for subsea drones.
Under its approximately EUR 40 million subsea service contract with Equinor, Saipem will deploy its Underwater Intervention Drone (UID) Hydrone-R and the all-electric Work Class ROV Hydrone-W in the Njord Field development offshore Norway.
"Today, we are making the history of subsea robotics: our visionary Hydrone program, launched back in 2015, has proven to perfectly match Equinor's challenging requirements," Francesco Racheli, chief operating officer of Saipem's Engineering and Construction Offshore Division, said in a written statement emailed to Rigzone. "Cooperation with one of the key players in the energy market by delivering our top-notch technology in the years to come is a very significant milestone for us."
In a separate written statement, Equinor noted the 10-year contract can be extended via five two-year options and lays down requirements for a permanent presence in Norway and Norwegian-speaking personnel. Also, it pointed out that Saipem Limited Norway Branch will provide services when the Njord field resumes production next year.
Executed by Saipem's Sonsub division, the Hydrone Program will use a fleet of next-generation drones and ancillary equipment to change how underwater inspections and interventions are carried out, Rigzone reported in August. According to Saipem, the Hydrone-R can stay underwater without interruption for 12 months and boasts light construction and advanced subsea asset inspection capabilities. Moreover, the company contends the drone:
Can be operated wirelessly
Can perform inspections and interventions over a 6.2-mile (10-kilometer) radius using through-water communication links
Will reduce the oil and gas industry's reliance on offshore support vessels.
"This is a historic contract in the oil and gas industry," Anders Opedal, Equinor's executive vice president for Technology, Projects and Drilling, stated. "It is the first contract signed for the use of advanced wireless drone services. We are pleased to secure a contract that will bring subsea technology a big step forward. Equinor aims to help shape the development of this type of technology, which this contract underscores."
Saipem stated the scope of work for Equinor will include remotely operated vehicle (ROV) and UID services to support drilling activities as well as a full slate of inspections and interventions on the Njord subsea assets. The subsea assets include pipeline end manifolds (PLEMs), flowlines, umbilicals and riser bases, the company explained. It also stated that its Hydrone-R operations for Equinor will begin in the first quarter of 2020 once the current round of endurance tests conclude. The firm added that it will deliver Hydrone-W in 2021.
Sonsub will control both drones from the floating rig Njord-A and onshore via its proprietary remote control protocols, Saipem also stated.
"The Hydrone Program is the culmination of years of hard world and a perfect example of Saipem's commitment to technology, constantly seeking solutions which intelligently combine HSE excellence, industry demand, innovation and operational efficiency," concluded Racheli.
To contact the author, email mveazey@rigzone.com.
Generated by readers, the comments included herein do not reflect the views and opinions of Rigzone. All comments are subject to editorial review. Off-topic, inappropriate or insulting comments will be removed.