Russia Reportedly Delivering Nearly 1.44 Bcf of Gas a Day via Ukraine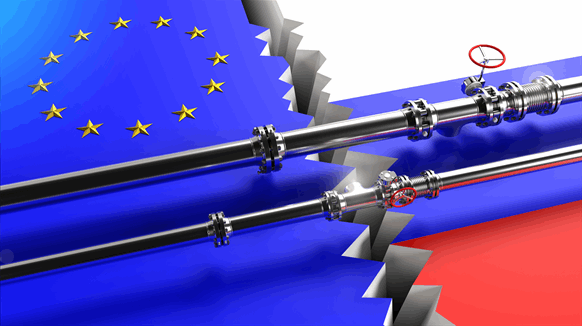 Russia's gas deliveries to western and central Europe have reportedly been averaging nearly 1.44 Bcf per day.
Image by Leestat via iStock
Russia's gas deliveries to western and central Europe have been averaging nearly 1.44 billion cubic feet (40.7 million cubic meters) per day, a Gazprom PJSC spokesperson has been cited by state media as saying.
Gas supplies from Russia, through majority state-owned Gazprom, to these parts of Europe continue via Ukraine, said the unnamed source in a report Saturday by Russian news agency TASS.
Export volumes through Ukraine totaled nearly 1.44 Bcf Saturday and nearly 1.46 Bcf (41.3 million cubic feet) Friday, the spokesperson said.
"Gazprom continues to supply Russian gas for transit through Ukrainian territory via the Sudzha gas pumping station in an amount approved by Ukraine", the source was quoted as saying by the state-controlled news agency.
TASS said: "The transit line through Ukraine remains the only route for Russian gas supplies to western and central European countries. Pumping through the Nord Stream pipeline was completely suspended."
The Baltic Sea gas conveyor had resumed supply July after closing for what the operator said was maintenance, according to a July 21, 2022 news release by Nord Stream AG, the operator mainly owned by Gazprom. But Nord Stream took damage September 2022 from what a Swedish probe said was a sabotage by unknown actors. An investigation update on April 6, 2023 by the prosecution authority of Sweden, where part of the twin Nord Stream pipelines lies, called the September 2022 incident "detonations" and that pipes one and two had taken a hit.
Russian gas supplies via another Ukraine transit had stopped after a force majeure declaration by the Gas Transmission System Operator of Ukraine on May 10, according to TASS.
"A request for transit via the Sokhranovka gas pumping station was rejected", the Gazprom spokesperson was quoted as saying.
Meanwhile at home Gazprom is targeting 2.57 trillion cubic feet (72.842 billion cubic meters) in working gas inventories by the heating season to ensure a stable domestic supply.
It has tasked its units to raise the total maximum daily delivery capacity of Russia's Unified Gas Supply System (UGS) to nearly 30.33 Bcf (858.8 million cubic meters), Gazprom said in a press release Thursday.
The figures would set record highs breaching the nearly 2.57 Tcf (72.662 billion cubic meters) the UGS set at the start of the 2022-23 withdrawal period, the company said.
The new targets are for Russia alone. Gazprom said: "The working gas inventories will amount to 1.13 billion cubic meters [nearly 39.91 Bcf] in the Republic of Belarus (the maximum amount for said country) and 0.107 billion cubic meters [nearly 3.78 Bcf] in the Republic of Armenia".
"It was noted that during the past autumn/winter period Gazprom, as in previous years, provided Russian consumers with reliable and uninterrupted gas supplies", it said. "Particular attention was paid to gas deliveries for socially significant facilities, public utility enterprises and the population".
Gazprom separately announced Thursday an expansion plan through 2025 that includes the construction of about 37,300 miles (60,000 kilometers) of gas pipelines.
"As of today, Russian consumers have signed more than 847,000 contracts with regional gas infrastructure expansion operators", it said. "Out of the signed contracts, as many as 562,600 contracts (i.e. 67 percent of the total number) have already been executed by bringing pipeline gas to the boundaries of relevant land plots".
To contact the author, email jov.onsat@rigzone.com
What do you think? We'd love to hear from you, join the conversation on the Rigzone Energy Network.

The Rigzone Energy Network is a new social experience created for you and all energy professionals to Speak Up about our industry, share knowledge, connect with peers and industry insiders and engage in a professional community that will empower your career in energy.