Robotics and Automation: The Oil, Gas Skillsets of the Future
|
Wednesday, November 15, 2017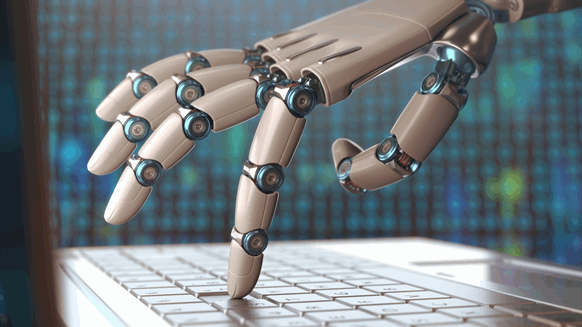 What are oil and gas companies doing to embrace robotics and automation and what type of workers do they need to execute these missions?
Robotics, by definition, encompasses several different types of engineering that work to develop robots, which are then used to substitute for humans in a myriad of work environments.
Robotics engineering isn't new; however, it has gained steam in recent years in the oil and gas industry as companies work toward safer, more efficient means of operations.
"We've been working on a strategy for four to five years on adopting a much higher degree of automation in the rigs and automating surface equipment, developing a manless floor and automating directional drilling," Dennis Smith, vice president of corporate development and investor relations for Nabors Industries Ltd., told Rigzone.
Nabors acquired Robotic Drilling System AS (RDS) Sept. 5, in a move that Smith called "strategically valuable."
"We've been working with RDS for several years on developing a system for some of our rigs," said Smith. "If you look back 40 years ago in the automotive industry, the first robots were doing welding on cars … the majority of the employees at RDS come from the automotive industry."
Why Robotics and Automation Belong in Oil, Gas
For an industry that has seen drastic cuts in investments, workforce numbers slashed and projects stalled thanks to the more-than-two-year oil glut, finding a way to get work done was high priority for oil and gas companies.
Smith said the enhancement of safety is the biggest paramount consideration in the shift to more robotics and automation.
We're working on "getting people out of the way handling pipe and doing it mechanically," he said.
Other valuable parts are precision, consistency and repetition. Smith said robots can operate at peak efficiency virtually all the time until they break down – and then they can be repaired.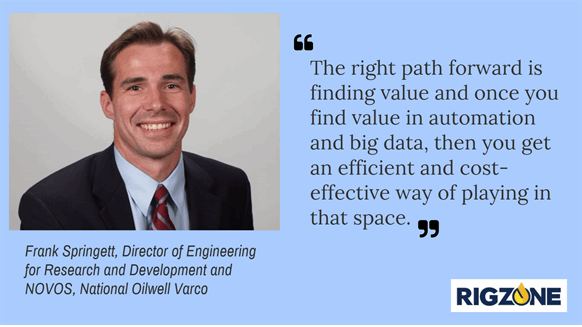 "In the drilling space, most people look at robotics as 'how do we move tubulars from Point A to Point B?'" said Frank Springett, National Oilwell Varco's (NOV) director of engineering for research and development and NOVOS. "NOV's been doing robotics in that sense for more than 50 years … looking at just the mechanization and the machine – it's been happening for quite a while."
The company's latest foray into automated sequencing has been through NOVOS, a process automation platform that manages rig equipment to execute drilling programs. NOV has been working on NOVOS for five years.
"NOVOS is taking it to the next level with process automation," Springett told Rigzone. "Process automation is not necessarily looking at 'how do I move pipe from Point A to Point B?' It's 'how are we manufacturing a wellbore?'"
With how efficient drilling operations are today, the importance of automation is becoming more prevalent, Springett said. He maintains that it is still a huge part of NOV's strategy.
"With the downturn, we have to be very selective of what we invest in," he said. "We see process automation has far greater reach into impact to customer operations than just one specific machine. Automation is a pretty big and important part of our strategy right now."
1
2
View Full Article
Generated by readers, the comments included herein do not reflect the views and opinions of Rigzone. All comments are subject to editorial review. Off-topic, inappropriate or insulting comments will be removed.