Rigzone's Employer Survey Reveals the Best Oil, Gas Company to Work For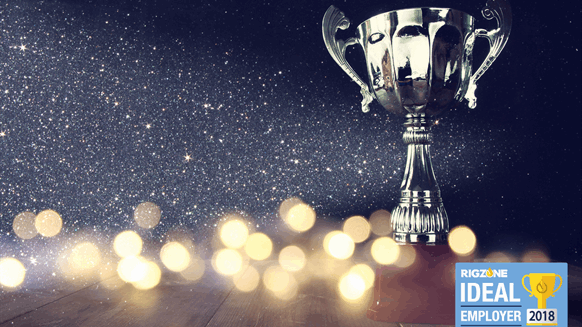 Find out which company ranked as the number one oil and gas company to work for.
When it comes to identifying an employer of choice, Royal Dutch Shell plc ranked No. 1 amongst oil and gas professionals around the globe, according to Rigzone's 2018 Ideal Employer survey. It's the second year in a row that responses placed the multinational oil and gas company in the top spot on the Global Top 30 list.
The most recent Ideal Employer survey garnered 6,621 responses from over 100 countries, with a total mention of 2,990 different companies. The firms were ranked based on questions that focused on various attributes and employer ratings.
Shell had the most mentions from respondents who were asked to name the employers they would most like to work for. Halliburton, Exxon Mobil Corp. and Chevron Corp. followed in the second, third and fourth position, respectively.
When Rigzone asked why the company may have ranked so highly in several of the survey categories, Jeroen de Weerd, Shell's vice president for recruitment, said he believed it was partly due to the improved performance across many of the company's businesses and projects.
Additional insights around the company's win and workforce retention initiatives follow.
Rigzone: For the inaugural survey, Shell indicated the move to acquire BG (when few mergers and acquisitions were happening in oil and gas) sent a positive signal to the sector's workers. Why do you think Shell has done so well in Rigzone's Ideal Employer Survey for two years in a row?
Jeroen de Weerd: I was delighted to see our continued strength as a preferred employer in this year's survey. It tells me that there is confidence in Shell as a company and that our reputation as an employer is strong. Our ambition to thrive in the Energy Transition means that we are on a transformational journey. Seeing Shell ranked #1 is a positive signal that our efforts are being recognized. The successful acquisition of BG was a great start and enabled us to realize some of our accelerated growth ambitions faster. Shell is now the largest producer, marketer and independent trader of LNG, but there is much for us to do before our ambitions are fully realized across all our portfolios and to live up to our transformation promises.
Last year we declared our aspiration to reduce the net carbon footprint of our energy products in step with societies' drive to align with the Paris agreement and recently we published our Energy Transition and Sky Scenarios reports – both of which clearly outline what it is we in Shell, and the world, need to do to ensure more energy can be provided to meet the needs of growing populations while reducing impact on the planet. We certainly don't have all the answers and it won't be easy to deliver on these promises, but the more we discuss it and search for ways to address the issues in dialogue with society, the more people are saying – "yes, I want to be a part of that, I want to truly make a difference".
When I talk to our people around the world, whether they have been here for many years or as a new graduate, I can see and feel a newly energized pride in what Shell stands for and a real sense of urgency to take action. No matter what role, which department or where they are in the world, everyone has a part to play to ensure we really do make a difference for both today's and future generations.
Rigzone: In addition to ranking No. 1 globally, Shell also topped the survey charts in other categories covering regions such as Europe, the Middle East and Asia Pacific, subsectors including upstream, and industry focus areas such as health and safety. What else do you think made respondents think of Shell in so many instances?
Jeroen de Weerd: Seeing this vote of confidence from industry professionals—across generations and gender—helps me believe that the areas we are focusing on to build upon Shell's reputation as a great place to work are being heard and felt. We don't have all the answers, so listening to what it is that makes us an attractive employer is very important and we are constantly looking for opportunities to improve, especially in this dynamic, fast paced changing world.
For me, it is so important that people see Shell as a place that provides challenging work and opportunities to innovate because this makes the work they do meaningful and exciting. When purposeful work is married with a culture of caring for people it helps people to perform at their best. When it comes to health and safety, I hardly think of it as a focus 'activity' anymore, it is deeply ingrained in our culture because we really care about people. It is not just a tick box or a project. I find we talk about the safety in our homes as much as we do at work which translates into our daily activities and operations.
Rigzone: How has the downturn impacted employment at Shell during recent years and what is the company doing to remain attractive to current and future hires?
Jeroen de Weerd: The industry has been impacted by the changing world we live in which means we are consistently making strategic choices on where we operate, how we run our business and what we focus on. There are ever-changing capabilities and skills needed to deliver in a world that is more digitized and where new technologies have even greater importance on our ambition to make a better future. I think we have demonstrated real resilience during the downturn and while oil and gas will remain a critical part of what we do for the medium term, we are tasked with finding ways to deliver a better energy future in a very competitive and changing environment.
1
2
View Full Article
Generated by readers, the comments included herein do not reflect the views and opinions of Rigzone. All comments are subject to editorial review. Off-topic, inappropriate or insulting comments will be removed.