Rig Trends: Offshore Rig Fleet Poised for Comeback, but More Time is Needed
|
Thursday, January 04, 2018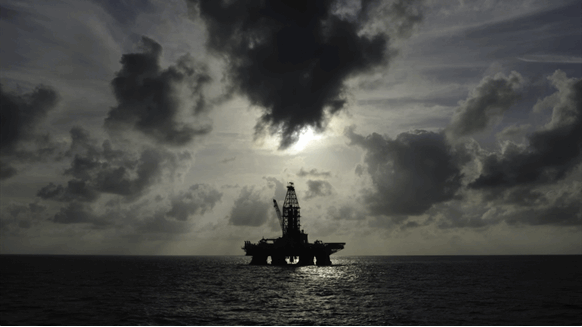 Most of the 2018 indicators are positive, and should they shake out as predicted, the second-half of next year could finally be the start of a true recovery.
For the most part, the offshore rig fleet as a whole continues to be mired in a low utilization and day rate environment. There are definitely isolated pockets of increasing activity and optimism, but for most rig types in most regions, recovery is not a word many rig owners use at present. Nevertheless, most of the 2018 indicators are positive, and should they shake out as predicted, the second-half of next year could finally be the start of a true recovery, not the one many have touted for some time now.
In looking at a few of the key factors that will help determine future rig demand, the 2017 number of Final Investment Decisions (FID) doubled from 2016 to over 20 for the year and the total in 2018 is projected to be around 25. While all these projects will ultimately lead to drilling, the long lead time required means the earliest start date for much of it is mid-late 2018. However, the rig tendering process has already begun for some and will continue to increase, so rig owners will have that to look forward to.
The outlook for the price of Brent crude, used as the world's benchmark, has been positive in recent weeks, with several prognosticators raising 2018 Brent estimates. In its November 2017 Short Term Energy Outlook, the Energy Information Administration (EIA) upped its 2018 Brent crude price forecast from $54 to $57, with the high for the year reaching $60 in December. Investment banking firm Jefferies recently jumped its 2018 Brent price from $57 to $63. The recent OPEC decision to extend production cuts through 2018 no doubt was a major influence, and the pipeline explosion in Libya pushed prices upward. While the latter development may be only a temporary factor, it is nice to begin a year with a positive forecast, and should 2018 have an oil price that begins with and is maintained at $60 or above, operator spending will ultimately increase, and rig demand and day rates will follow along.
Essentially the industry has seen three years of restricted operator spending, and in many areas production is declining and little exploration drilling to replace lost reserves has taken place. Although offshore spending in 2018 is forecast by some to decline, others believe it will at worst be flat. The bottom line is that the fundamentals appear to be in place, and although the timing remains a question mark, the scenario for a rig demand increase appears to be not if, but when.
In the Meantime, Utilization Has Stabilized, but no Growth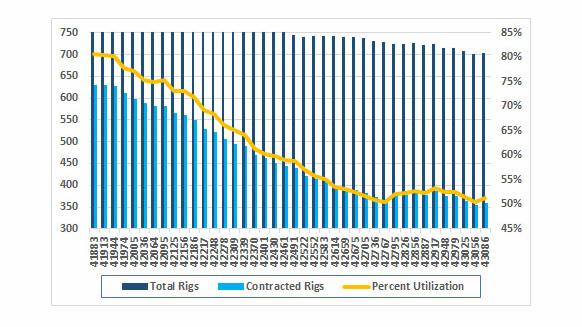 A look at competitive fleet utilization (jackups, semis, drillship and tender-assist) from RigLogix in Figure 1 shows the rig demand and utilization decline since the downturn began in September 2014. However, in looking specifically at 2017, the data clearly illustrates how utilization reached its bottom in February 2017 at 50.6 percent. It then saw a steady, albeit minor increase through July, only to fall for four consecutive months before ending up in late December at 51.2 percent, only slightly above the bottom. However, for a market that has been touted for some time as in recovery, the only thing that kept the utilization decline from continuing was attrition. The data in Figure 1 shows that the number of working rigs fell from the 2017 high of 387 to 360 in December, but supply fell from 724 to 703 at the same time. Had that not occurred, December 2017 utilization would have been well below 50 percent. However, as we will see, this is likely the only part of the market attrition positively impacted.
New Construction – A Few Sales, but Even Fewer Deliveries
The most noteworthy newbuild event of the year took place in October when Borr Drilling purchased nine newbuild jackups from Jurong Shipyard in Singapore, putting 2018 and 2019 delivery dates on all nine. It was reported that Borr had first approached KeppelFELS to make a purchase but that the yard did not think enough value was put on the rigs, so the deal was not done. In December, China Oilfield Services Ltd (COSL) took over management of two newbuild jackups and is expected to take delivery by the end of the year. It is rumored both recently received contracts for work off China, but that has yet to be confirmed. Otherwise, just nine jackups were delivered, all of which had contracts lined up.
For floating rigs, just four units, all contracted, delivered for the year, with everything else sliding into 2018 or beyond. The current orderbook stands at 37 competitive units, 25 of those currently having 2018 delivery dates. As next year progresses, however, the lack of contract awards will result in those dates continuing to move further to the right, many likely into 2019 or even later.
There have been a couple of newbuild units sold, both UDW harsh environment semis, one of the few bright spots in the current rig market. Utilization is near 90 percent and the most recent contract signings saw day rates around $290,000, substantially higher than rates secured earlier in the year. The West Rigel and Bollsta Dolphin are both Moss Maritime CS60 designs and are rated to work in up to 10,000-feet of water. The rumored sale price for the West Rigel was $501 million, while the Bollsta Dolphin price of $400 million was the exercise of a purchase option for a previously agreed to sale price.
Clearly, the rig purchases made in the final quarter of the year made the most headlines within the newbuild fleet. Even so, none of those rigs have been delivered, nor will any of them likely be delivered anytime soon unless a contract is secured. With a plethora of young rigs already in the fleet and day rates around daily operating costs, there is simply no reason for an operator to go through the break-in period required for a new rig, especially one that may have been completed two or more years ago and has been sitting idle.
Rig Attrition – Is It Making a Difference?
We saw in Figure 1 how attrition did help sustain utilization during the second-half of this year. Generally, attrition comes from the fleet of cold stacked rigs. Although the definition of cold stacked for floating rigs has changed some with the advent of terms like "preservation" or "smart" stacking, once a rig is cold stacked, its chances of ever returning to service are between slim and none and it usually is the final step before removal from the fleet. In essence, other than from the accounting perspective, it is treated like it does not exist. Consequently, these rigs many times are not counted in utilization calculations and they have no impact on the day rates contractors bid or receive. So given all that, why is there so much talk about how necessary it is to help balance supply and demand? In reality, had Figure 1 displayed marketed supply, demand and utilization, none of the numbers would have changed by one rig, so does retiring these rigs quickly really matter?
The short answer in our opinion is no, but this is not to say that these rigs do not need to be disposed of, because ultimately they do. However, other than the accounting impairment charge that shows up on earnings statements, getting rid of them has no impact on whether a rig owner wins a contract or not. Even though there have been over 150 rig retirements in the past three plus years, day rates as a whole have not improved, remaining at near breakeven levels. In fact, the most recent jackup contract fixtures for eight jackups off India were by far the lowest rates since the current downturn began. Overall, other than the previously mentioned harsh environment semi fixtures, rates for most every rig type have remained at virtually the same levels all year and utilization has actually declined since the middle of the year - in other words, attrition has had no impact on the rig market.
Nevertheless, looking into the first-half of 2018, attrition will definitely continue, although rig owners will be more hesitant if demand begins to increase. In the past there have been a flurry of rig retirements around the end of the year, and that could also be a possibility this year. If that does occur, it will come mostly, if not all, from the fleet of older, cold stacked units. Looking into the first-half of 2018, we believe there are at least 25 rigs that could very easily be removed from the fleet. Of course, that is a pretty easy guess to make as these rigs undoubtedly will be retired at some point, but it is merely a question of when.
Rig Requirements Building, but Most Still in Early Stages
The inventory of rig requirements worldwide, which includes prospects, market inquiry/expression of interest, pre-tender or tenders, is building up in some regions of the world. The RigLogix data base contained 390 requirements with a start date of Dec. 25, 2017 or later, hardly a small number. In looking at those requirements with current start dates in the first-half of 2018, the total comes to 202, also a healthy number. Within the 202 includes 68 projects in the pre-tender or tender stage, meaning a rig selection is imminent or fairly close. The Asia-Pacific region accounts for 21 of the 68 pre-tender or tender phase projects, but delays are commonplace in this region, so how many of these get a rig is questionable. Otherwise, Africa and the North Sea also have double digit requirements where tender activity is ongoing. The remainder of the projects are prospects, commitment wells or expressions of interest, meaning the start dates for most will slide into the final six months of 2018 or even beyond.
1
2
View Full Article
Generated by readers, the comments included herein do not reflect the views and opinions of Rigzone. All comments are subject to editorial review. Off-topic, inappropriate or insulting comments will be removed.