Rig Trends: A Glint of Light in the North Sea Rig Market
by Teresa Wilkie
|
Rigzone Data Services
|
Friday, December 22, 2017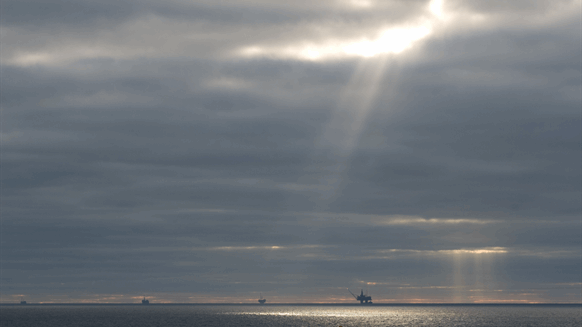 The UK North Sea and Norwegian Continental Shelf are two areas where semisubmersible demand has picked up.
Despite recent upward movement in oil prices, the global rig market remains crippled by oversupply and not nearly enough short-term demand to spur utilization and day rates. The UK North Sea and Norwegian Continental Shelf (NCS), however, are two areas where semisubmersible (semi) demand has picked up considerably since the start of 2017. This demand has largely been for the harsh environment, mid-water (MDW) semis (rated for up to 4,999-feet), although more recently the ultra-deepwater (UDW) semis (rated for 7,500-feet and greater) have garnered some high-profile contract awards. For both rig segments, work has consisted of both exploration and development drilling campaigns, as well as plug and abandonment and workover projects.
First, we will examine the current rig market. As there are only two drillships in this region and both are idle, this discussion will center around semis. Since the current downturn began in September 2014, floating rig supply reached as high as 56 in mid-2016, but as of December 2017, there were 46 units in the area, 17.5 percent of the global fleet of 262. MDW semis comprise 32 of the 46 rigs in the area and there are 10 UDW units, including the two previously mentioned idle drillships. Of the 46 units, 34 are harsh environment, including all eight UDW semis. There are 13 rigs currently classed as cold stacked, leaving marketed supply at 33. With only 17 units currently working, utilization barely over 50 percent does not look all that impressive. However, when the nine idle units that have upcoming contract starts are thrown in, utilization jumps to 78.7 percent, which is very respectable when compared to many other regions.
In recent years, an influx of younger rigs and attrition have brought the average age down considerably to 22.2 years, as of December 2017. Nevertheless, 22 of the 46 rigs in the fleet are 30 years of age or more, and 12 of the 13 cold stacked units are in that category, so there are still plenty of future attrition candidates in this region.
Contract awards in this segment have more than doubled in 2017 when compared with the previous two years. As of Dec. 22, RigLogix had recorded 24 new MDW semi contract awards (not including the option exercise or other extensions) and a further 11 awards in the deepwater (DW) segment. In comparison, there were only 17 total contract awards made in the in 2016 and only 16 the year before. And, it is not just short-term contracts that are coming out of the market these days either, but several of the new awards have been for multi-year programs, clearly a positive sign for the floating rig market here. Nearly half of the 2017 fixtures were for campaigns beginning in 2018 and based on the known data operators have continued to take advantage of the low day rate environment. However, four contract awards made later in the year to UDW semis for work not beginning until 2019 or 2020 came in at substantially higher rates, with a couple even nearing $300,000. This speaks to the tightness of the harsh environment semi fleet, so fixtures for both MDW and UDW units in 2018 should benefit.
This rash of new fixtures means the pool of available rigs is shrinking, further reducing the gap between supply and demand. With this utilization increase should also come an ultimate increase in day rates. However, as is always the case, there is always a lag period between rising demand and day rate increases. As noted, recent fixtures for UDW harsh environment have been at higher rates, but this has not yet occurred for the remainder of the fleet. It will, however, start to change should the current demand trend continue.
In addition to all the new fixtures, there are still numerous outstanding rig requirements that should soak up further supply. Some examples in the UK sector that will require MDW semis include i3 Energy's Liberator development, a 130-day program starting around May 2018 and Shells' Penguins Redevelopment, a minimum 200-day term also starting around May 2018. In addition to these, there are various plug and abandonment campaigns planned by Marathon and Shell, among others. In the Norwegian North Sea, there are a plethora of substantial drilling campaigns awaiting award. Statoil, which would come as no surprise, has several potential projects including the Njord extension project, a 10-well program that should begin next year. There is also Wintershall's Skarfjell development, which will require an MDW semi for a 400-500 day program starting in 2018.
Looking at potential future supply, this region is somewhat safe from too many additional rigs entering the market. Not just any rig can work in the UK or Norwegian sectors of the North Sea as they must have either a UK Safety Case or Norwegian Acknowledgement of Compliance (AoC). At present, there are two floating rigs outside the North Sea that have one of those two clearances and the odds of any rig owners spending the money necessary to make a rig compliant are not very high.
As for newbuild rigs, of the 37 floating rigs currently under construction, only six – a meager 16 percent of the total – would likely be candidates to mobilize to the North Sea at present. Three of the six are UDW units and three are MDW, harsh environment designs owned by North Sea Rigs AS. Given the numbers, this region should be somewhat protected against becoming flooded with additional rigs in the future. Most rig owners that participated in the last wave of floater orders overlooked MDW harsh-environment rigs, and instead ordered UDW, high specification rigs, which made sense due to the large number of new projects set to go ahead in prolific deepwater areas such as East and West Africa, Brazil and Australasia, to name a few.
Recovery in this segment will not, of course, save the global rig market, but for rig owners who have mid-water harsh environment semis, the North Sea is finally providing a glint of light when it comes to providing contract backlog. There is still a lot of work to be done, but with a solid oil price and some luck, 2018 can equal or perhaps even exceed the progress that has been made in 2017.
Generated by readers, the comments included herein do not reflect the views and opinions of Rigzone. All comments are subject to editorial review. Off-topic, inappropriate or insulting comments will be removed.