Regional LNG Finds Growing Demand off the Pipeline Grid
|
Friday, January 31, 2020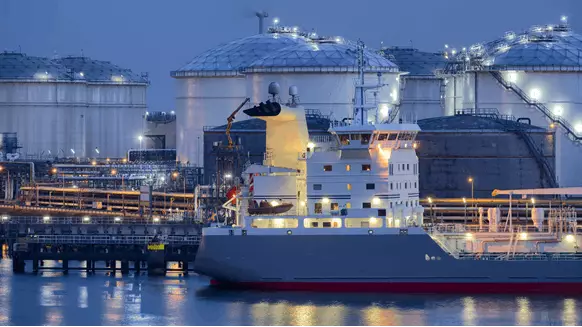 While massive world-scale LNG projects around the coast of North America have dominated headlines, smaller-scale regional LNG is also growing quickly.
While massive world-scale liquefied natural gas (LNG) projects around the coast of North America have dominated headlines, smaller-scale regional LNG is also growing quickly. There are at least five operations, four fixed facilities in various stages of commercialization, and one using truck-mounted Cryobox liquefaction units to monetize stranded gas.
World-scale liquefaction trains load into large specialized tanker ships. Regional LNG liquefaction plants ship LNG in intermodal tank containers, also known as ISO tanks. Some also have facilities for loading tank trucks and rail cars, and one also does direct bunkering of LNG for ship fuel.
Most recently Edge Gathering Virtual Pipelines signed a new development deal late in January with one of the largest producers to station Cryobox in the Marcellus. Mark Casaday, CEO of Edge, says the new deal is the firm's second in the Marcellus. It is actively pursuing similar projects in the Bakken and Permian where the flaring of stranded gas has become a serious problem for the industry.
Intermodal tanks, railcars, and trucks take stranded gas to industrial and municipal markets.
The tenured small-scale operation is Fortis, which has been shipping LNG in tank containers to China since late 2017. Jax LNG recently went into operation in Jacksonville, Fla., with 15 million cubic feet per day at the inlet. Jax is a partnership of Pivotal LNG, a wholly owned subsidiary of Southern Company Gas, and NorthStar Midstream. The latter is backed by Oaktree Capital Management, and Clean Marine Energy.
Nearby, the $500-million Jacksonville Eagle operation has two LNG operations going: ISO-tank loading and a ship bunkering. The company tells Rigzone that it is approaching final investment decision for an LNG export facility.
And the major midstream and utility company Dominion Energy began construction late in 2019 on modular LNG project in north central Pennsylvania, a joint venture with Rev LNG called Niche LNG, not too far from Edge's latest installation.
Edge was barred from naming its Marcellus client, but Casaday said the initial installation is for two Cryoboxes in Tioga County. Each unit takes 1 million cubic feet a day of gas at the inlet, and loads 75% of it into the tank; the balance is used as fuel. The output is between 9,000 and 10,000 gallons of LNG. "Over the next year we expect to add three or four more locations, each with two to four Cryoboxes."
Each well is one that has never produced, said Casaday. "At $2 gas, they cannot afford to build gathering." In those cases the wells had been shut in, but in the Bakken and Permian, he said the goal is to turn stranded gas that is being flared into LNG to displace diesel fuel for drill rigs and mud pumps."
The economics are compelling. "In the Bakken diesel costs about $18-20 per million Btu," said Casaday. "Our LNG costs $10-13 per million Btu. That is found money. The numbers are similar in New Mexico and west Texas."
At the new installations in the Marcellus, Edge will purchase the LNG from the producer to deliver via its truck-based virtual pipeline to existing customers in the region. The company has also signed a deal to supply LNG to the City of Norwich, Connecticut which will be used to provide natural gas to homes and businesses.
Edge purchases the Cryobox units directly from manufacturer Galileo Global Technologies, which is also a shareholder along with specialist international private equity firm, Blue Water Energy. Edge also has an agreement with NextEra Energy Marketing as exclusive sales and marketing partner in the US. NextEra is a subsidiary of the eponymous energy group, which claims primacy as "the world's largest utility company."
Generated by readers, the comments included herein do not reflect the views and opinions of Rigzone. All comments are subject to editorial review. Off-topic, inappropriate or insulting comments will be removed.