Regardless Of Challenges, 2023 Will Not Disappoint EV Market
|
Thursday, January 19, 2023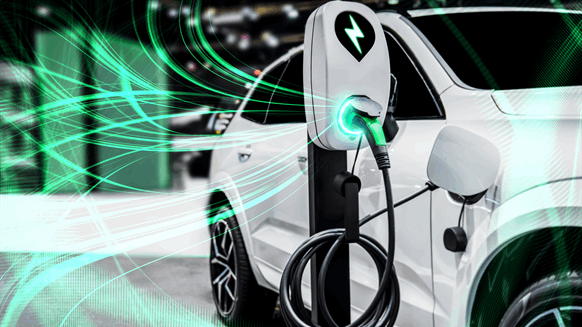 The EV market went from strength to strength in 2022 despite considerable supply chain challenges. In 2023, there could be more challenges.
The electric vehicle (EV) market went from strength to strength in 2022 – despite considerable supply chain challenges. In 2023, there could be more challenges than before, Wood Mackenzie believes.
The war in Ukraine and Covid-related disruptions in China restricted EV production for several months in the first half of the year. However, sales rebounded with more than a million EVs sold in each of the final four months of the year.
Woodmac said that 2022 saw the peak of soaring battery metal prices that began in the middle of 2021 – yet lithium, nickel, and graphite saw upward pressure at the year's end. The US and EU decided to reduce the battery supply chain's overwhelming reliance on China and poor sustainability.
A shift to LFP technology would exacerbate the concentrated supply chain, but 2022 saw increased interest from Western OEMs in low-cost chemistry. 2023 will surely not disappoint as pressure rises to secure supply chains and develop next-generation technologies in a low-margin industry.
The global EV market will reach new levels of maturity in 2023
China officially ended its decade-long incentives for electrified transport in 2022. The country reached its goal of 25 percent New Energy Vehicle penetration – a term used in China for plug-in EVs – three years ahead of the expected schedule, leading to the earlier-than-expected end of direct government support for buyers. Other supporting measures – such as vehicle tax exemption – remain in place this year. China has gradually decreased subsidies for several years in a row. By the end of 2022 the maximum subsidy constituted 7 percent of the average passenger vehicle price. However, the end of subsidies represents a make-or-break point for smaller producers. Some new entrants will find it tough to remain in the business.
In Europe, Woodmac expects a mild recession in the first half of 2023 to place pressure on overall vehicle sales and effectively put EV sales at risk. However, all the major European producers are likely to start production of new EV models in their roadmap for the region, spurring greater demand. The expansion of local cell production will further support sales.
The US has been languishing in a distant third place behind China and Europe for EV sales for some years. But with the landmark Inflation Reduction Act things could be coming together in terms of policy, regulations, and product. The new Environmental Protection Agency (EPA) regulations set for 2023 will force automakers to reduce fleet level emissions by 10%, and the cheapest way for automakers to achieve that will be to sell more EVs. Affordable EVs are finally hitting the market in volume. The Inflation Reduction Act will support American EV producers eligible for the EV tax credit, while major automakers that would have been capped off by 2023 can now enjoy another 10 years of subsidies - if they meet the stringent requirements.
OEMs to gain resilience against raw material supply chain disruptions
OEMs are still reeling from the impact of surging battery raw material prices. The growing materials bill for cellmakers and automakers alike is negatively impacting margins.
Strong lithium and nickel prices have already shifted the market in the favor of iron based LFP technology. Indeed, Ford made commitments to LFP tech and BYD sold its LFP-based EVs in Europe in 2022. In North America, Our Next Energy announced a 20 GWh LFP Gigafactory in Michigan while FREYR continued its interest in LFP cells by licensing LFP production from Taiwanese cathode producer Aleees.
Wood Mackenzie expects a greater share of LFP in the EV market to bring down the average price of a pack this year, but not by much. High lithium prices are still feeding into supply contract renewals which will delay the impact of new supply pressuring real prices down.
In further disruptive technology expectations, CATL had earmarked 2023 as the year for sodium-ion cell production back in July 2021. The analyst firm 'keenly anticipates' the first EV to contain Na-ion cells however expect only a handful of 'special edition' units, similar to Dongfeng Motors demonstrating 50 EVs containing semi-solid cells made by Ganfeng last January. The automaker, as well as NIO, also proposed shipments of 150 kWh solid-state-based EVs to the mass market this year.
EV supply chain sustainability will rise up the priority list
In parallel to increasing supply chain localization, developments in regulations over the past year indicate that major European and North American OEMs will push to further decarbonize their supply chains.
Last year saw the EU finalize wording for its Battery Regulation, for example. This legislation is designed to limit the carbon footprint of EV batteries from 2027 and implement minimum recycled metal contents from 2030. And the EU's carbon border adjustment mechanism – possibly the most radical change in Europe's carbon market to date – will include battery precursor metals, including nickel.
The EU will also adopt the Corporate Sustainability Reporting Directive (CSRD) that will require 50,000 companies to disclose their Scope 3 greenhouse gas emissions from 2025.
Lithium
The lithium market is experiencing the same warning signs that led to lithium chemical prices halving over nine months in 2018. At the end of 2017, there a relative boom in demand for EVs that resulted in Chinese producers scrambling for lithium. Higher spodumene concentrate prices led to Mineral Resources, and then Pilbara Minerals, shipping DSO – unprocessed ore – to generate cashflow to develop mines and build concentrates. The result was a period of oversupply with a significant build-up of stocks that took years to consume and, along with subsidy cuts in China tempering EV demand, a subsequent slashing of prices during 2018.
Demand for DSO represents extreme measures, the cost of shipping the larger volumes of material and the extra work to extract lithium is typically not worth it. However, a resurgence of DSO shipments from Core Lithium in Australia is happening, and Woodmac believes more will come from Namibia in 2023. Again, these sales are made during a period of high spodumene concentrate prices, resulting in demand to concentrate and convert DSO. It is possible stocks will build up resulting in another decline in prices.
But this time around there are differences that will prevent prices from plummeting. The market is much larger than in 2018 and the DSO shipments are a much smaller portion of overall supply. Also, even though China is cutting subsidies, Woodmac still expects demand to remain strong in a more mature EV market as Europe and North America will make greater contributions to demand. As a result, it would take extraordinary events for prices to halve as they did in 2018.
Nickel
If the LME thought it had a bad year with its nickel contract in 2022, this year could become pivotal to its continued existence. Rumors have surfaced in the trade press of new nickel contracts being considered by the Chicago Metal Exchange and the Shanghai Futures Exchange (SHFE). LME nickel has gradually replaced pricing benchmarks since its introduction in 1979, but the LME's corrective measures in March 2022 have done little to reduce fears of a damaging sequel. Traded volumes are down by half since March, raising the potential for more price instability – which have been seen already since November, and which was part of the problem originally.
Class I products accounted for less than 30% of global output in 2022, down from 58% in 2010, and the production capacity of those brands listed on the LME added up to little more than 15% of global output at the end of last year.
The SHFE only allows Chinese-registered companies to engage in nickel trading on its platform, and only in Yuan rather than US dollars. Equally, SHFE has struggled to attract greater participation from foreign nickel producers especially, with only Nornickel and Glencore asking to have their brands of Class I nickel accepted. Despite these current constraints, there were rumors in late2022 of Chinese nickel buyers asking producers to offer contracts based on SHFE prices in 2023, rather than LME. The pressure is already building from within China to make a move onto the LME's global stage
To contact the author, email bojan.lepic@rigzone.com