QP Doubles Down in Belgium
by Matthew V. Veazey
|
Rigzone Staff
|
Tuesday, September 03, 2019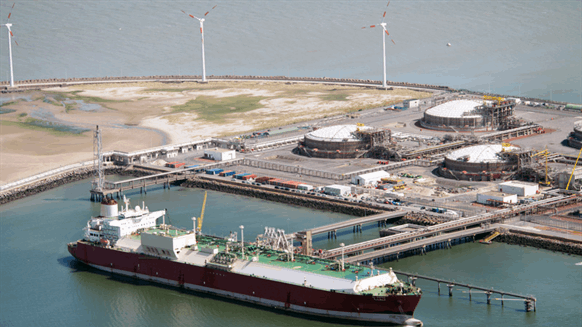 The Fluxys Belgium-operated Zeebrugge LNG receiving terminal. PHOTO SOURCE: Qatar Petroleum
Major liquefied natural gas (LNG) exporter Qatar Petroleum (QP) reported Monday that it has booked 100 percent of the regasification capacity at Fluxys Belgium's Zeebrugge LNG terminal for the next quarter-century.
During a ceremony in Brussels Monday officials with QP and Fluxys signed a long-term agreement for LNG unloading services at Zeebrugge, where QP subsidiary Qatar Terminal Limited (QTL) commands roughly 50 percent of the regas terminal's capacity under an existing deal. Under the new agreement, QTL will subscribe to the full capacity at the terminal from the expiry of existing unloading contracts and up to 2044, according to QP.
In a written statement, QP added that the latest agreement follows a competitive evaluation process and the approval of Belgian regulators.
"We are delighted to sign this landmark agreement today to extend and expand our existing long-term partnership with Fluxys Belgium for decades to come," Saad Sherida Al-Kaabi, QP's president and CEO and Qatar's Minister of State for Energy Affairs, noted. "We believe this arrangement will further support our customers in Belgium and Europe in general by providing access to reliable LNG supplies from Qatar and allowing our customers to maximize the utilization of such supplies."
According to QP, the Zeebrugge LNG Terminal has evolved into a "central crossroads for North-West Europe's gas network" over its 32-year history. The facility, located at the meeting point of various gas pipelines, boasts 380,000 cubic meters of LNG storage capacity across four tanks and 9 billion cubic meters per year of gas throughput capacity, QP stated. Also, the firm noted that a fifth, 180,000-cubic-meter storage tank is under construction.
Pascal De Buck, chairman and CEO of Fluxys Belgium, called the signing of the latest QTL deal a "milestone" for his company.
"This agreement further extends our long-standing cooperation with our Qatari partners, secures long-term activity at the Zeebrugge terminal and further strengthens our facility's position as a versatile LNG gateway into Europe offering customers optimum destination flexibility," De Buck stated. "Ample pipe gas takeaway capacity from the terminal is readily available for delivery throughout North-West Europe as well as a range of options for downstream small-scale LNG distribution."
In a separate statement on its website, Fluxys Belgium notes the LNG services agreement with QP is the outcome of a subscription window held from April 30 to May 24, 2019. The firm also stated that Belgium's Federal Commission for Electricity and Gas Regulation (CREG) in late June approved the tariff and LNG services deal proposals, clearing the way for the long-term deal with QTL.
"I am glad that our two countries have been able to develop a close and successful cooperation in this manner," noted Marie-Christine Marghem, Belgium's federal minister of energy, environment and sustainable development. "Qatar is a gas-producing country assuring long-term security of supply of LNG deliveries into Belgium and North West Europe. Approximately 15 percent of our gas consumption comes from Qatar."
To contact the author, email mveazey@rigzone.com.
Generated by readers, the comments included herein do not reflect the views and opinions of Rigzone. All comments are subject to editorial review. Off-topic, inappropriate or insulting comments will be removed.
MORE FROM THIS AUTHOR
Matthew V. Veazey
Senior Editor | Rigzone