Power of Siberia Pipeline Nearing Completion
|
Friday, November 29, 2019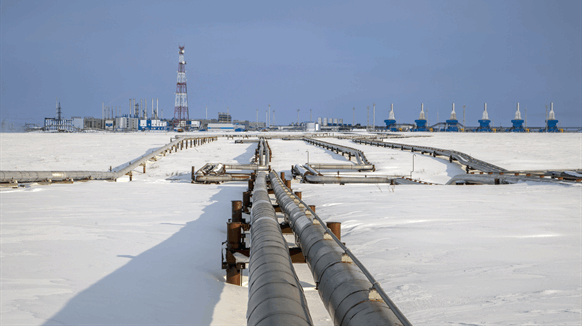 The remoteness and length of the pipeline's route, combined with the sheer quantities of material to be transported, make this an engineering and logistical triumph.
2020 will mark the start of Russian-piped gas exports to Chinese cities including Beijing, Harbin and Shanghai. Completed in June this year, the $9-billion Power of Siberia gas pipeline is part of the $400 billion contract signed in 2014 by Russia's Gazprom to supply 38 billion cubic metres (BCM) a year for 30 years to CNPC . With a maximum capacity of 61 BCM this pipeline is designed to transmit natural gas from Irkutsk and Yakutia of southern Siberia to cities on the Russian side of the Amur River and onwards to China.
About the pipeline
This 3,000 km pipeline crosses the Irkutsk, Amur and Sakha regions, which are host to hostile terrain including uninhabited swampy land, seismically-active mountains, permafrost and rocky areas as well as extreme temperatures which can fall to minus 62 degrees Celsius. The remoteness and length of the pipeline's route, combined with the sheer quantities of material to be transported, make this an engineering and logistical triumph. For example, 1,700 tons of steel pipe were manufactured in the steelworks of Chelyabinsk, Leningrad and Nizhniy Novgorod regions of European Russia for transportation over 5,000 kilometres by train to logistic centres in the Irkutsk region, from where they were distributed by river barges and trucks using ice roads to various construction sites along the route.
Benefits
This gas pipeline offers benefits for both sides of the River Amur. For Russia this pipeline will bring the energy needed to develop this remote region. This market expansion, made up of new customers and increased sales, helps counter Gazprom's over-reliance on Europe and could help alleviate the impact of Washington's array of potential sanctions to mark its displeasure at the construction of the Nordstream II pipeline. The price of Gazprom's piped gas deliveries to China are fixed, which brings certainty to Gazprom's sales and revenues, but prohibits the company from enjoying price upswings when they inevitably arise.
China is the world's biggest importer of natural gas and thanks to growing urbanization, industrialization and environmental commitments, demand is expected to rise from 310 BCM to 510 BCM by 2030 according to Chinese official sources. Once the Power of Siberia pipeline is fully operational in 2025, China expects to receive 38 BCM of Russian natural piped gases a year.
The Power of Siberia pipeline increases China's energy security by opening up a new source of supply which is also cheaper than expensive liquid natural gas imports. Russian gas could also protect China from any future disruption to energy supplies by wars in the Middle East or the impact of America's trade wars. At the same time, increased supplies of natural gas should help China to reduce coal consumption from 4.1 billion tonnes per year today, in order to cut carbon emissions.
Impact on the LNG market
From 2025, the Power of Siberia pipeline will deliver an amount of gas virtually half that of current Chinese LNG imports (which were 75 BCM in 2018). The impact on the LNG trade could be significant even at a time of rising Chinese demand for gas. Jin Lei, Associate Professor China University of Petroleum, predicts that Australia, a major supplier, will be adversely affected not only by LNG's cost disadvantage, but also by the strained relationship between Beijing and Australia. Moreover, whilst the trade war between America and China has curbed U.S. LNG exports, the Power of Siberia pipeline could curtail America's gas exports to China in the long term.
One thing is clear, the arrival of Russian gas in the Chinese market is a major market and environmental game-changer.