Port Arthur LNG Progresses with Aramco Deal
|
Tuesday, January 07, 2020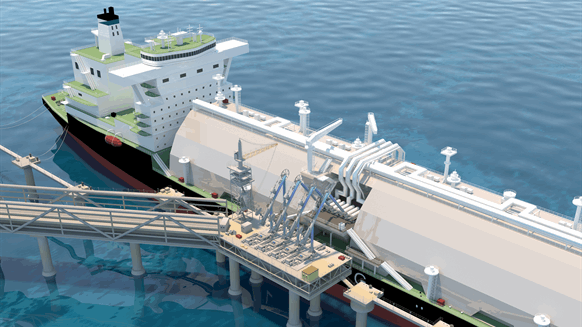 Aramco Services Co. has signed an IPPA with Sempra LNG for the Port Arthur LNG project in Jefferson County, Texas.
Saudi Aramco's Aramco Services Co. unit has signed an interim project participation agreement (IPPA) with Sempra LNG for the latter firm's Port Arthur LNG project under development in Jefferson County, Texas, Sempra Energy reported Monday.
According to Sempra, the IPPA marks another milestone for the companies in conjunction with Port Arthur LNG. Last May, Aramco signed a heads of agreement with Sempra to purchase 5 million tonnes per annum (mtpa) of LNG from Port Arthur LNG and to acquire a 25-percent equity investment in the project.
"Today's announcement is a reflection of the growing alignment between our companies' interest in the overall success of the Port Arthur LNG project," commented Sempra Energy Chairman and CEO Jeffrey W. Martin. "We have a tremendous amount of respect for Saudi Aramco and its leadership team and we are pleased we can support their success in the global natural gas markets."
Sempra noted that it expects the fully permitted initial phase of Port Arthur LNG to include two liquefaction trains, up to three LNG storage tanks and associated facilities to enable approximately 11 mtpa of LNG exports long-term. The company added that it recently initiated the Federal Energy Regulatory Commission (FERC) pre-filing review process for the agency to consider a potential expansion of the proposed Port Arthur LNG project. The expansion would add two liquefaction trains – bringing the total to four – and give the terminal the capability to export approximately 22 mtpa of LNG, Sempra noted.
"The global demand growth for LNG is expected to continue in the coming years, and we see significant opportunities in this market," stated Amin H. Nasser, Saudi Aramco's president and CEO. "This agreement with Sempra Energy is another step forward for Saudi Aramco's long-term gas strategy, and towards becoming the global leading integrated energy and chemicals company."
In its written statement, Sempra cautioned that the Port Arthur LNG export project remains subject to final investment decisions by various parties and other conditions. Company spokesperson Paty Ortega Mitchell told Rigzone Tuesday that the IPPA represents another step toward finalizing Sempra's arrangements with Saudi Aramco for the 5-mtpa offtake deal and 25-percent equity acquisition.
"It outlines key milestones and mechanisms as both parties work toward executing the project agreements and taking final investment decisions," Mitchell explained. "Both parties are large entities with boards that meet on a predetermined schedule."
To contact the author, email mveazey@rigzone.com.
Generated by readers, the comments included herein do not reflect the views and opinions of Rigzone. All comments are subject to editorial review. Off-topic, inappropriate or insulting comments will be removed.