Pioneering FPSO Reaches Offshore Guyana Block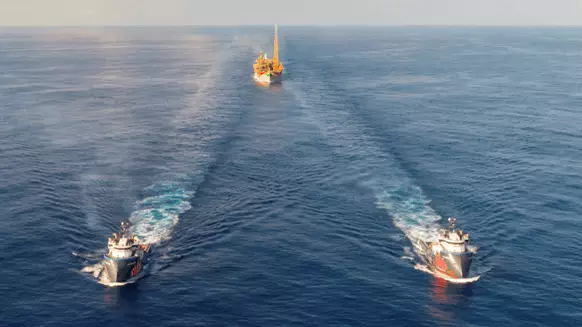 The Liza FPSO concludes its journey from Singapore. PHOTO SOURCE: Hess Corp.
After a 42-day journey from Singapore, the Liza Destiny floating, production, storage and offloading (FPSO) vessel has arrived at the Stabroek Block offshore Guyana, Hess Corp. reported Thursday afternoon.
Hess pointed out the FPSO – Guyana's first oil production vessel – will be used to deploy the Liza Phase 1 development, which will tie back to the FPSO 17 wells across four undersea drill centers.
"After clearing customer, hookup and installation of the Liza Destiny FPSO will begin," Hess noted in a written statement emailed to Rigzone. "The Liza Phase 1 development is on track for startup by the first quarter of 2020 and will produce up to 120,000 gross barrels of oil per day."
Hess owns a 30-percent interest in the 6.6-million-acre (26,800-square-kilometer) Stabroek Block. Other participants include ExxonMobil affiliate Esso Exploration and Production Guyana Limited (45 percent interest and operator) and CNOOC Petroleum Guyana Limited (25 percent).
According to ExxonMobil's website, Liza Phase 1 is located approximately 118 miles (190 kilometers) offshore Guyana in water depths ranging from 4,921 to 6,234 feet (1,500 to 1,900 meters). The operator noted that it expects the 17-well subsea system to include eight production wells, six water injection wells and three gas injection wells.
SBM Offshore began the conversion of the very large crude carrier "Tina" into the Liza Destiny FPSO at the Keppel shipyard in Singapore in November 2017, the company states on its website. According to SBM Offshore, Liza Destiny can store 1.6 million barrels of crude oil, treat approximately 170 million cubic feet per day of associated gas and boasts a water injection capacity of roughly 200,000 barrels per day (bpd).
ExxonMobil and Hess have stated the Stabroek Block could support up to five FPSOs producing more than 750,000 bpd by 2025.
To contact the author, email mveazey@rigzone.com.
Generated by readers, the comments included herein do not reflect the views and opinions of Rigzone. All comments are subject to editorial review. Off-topic, inappropriate or insulting comments will be removed.