Phillips 66 and Trafigura to Develop Offshore Texas Port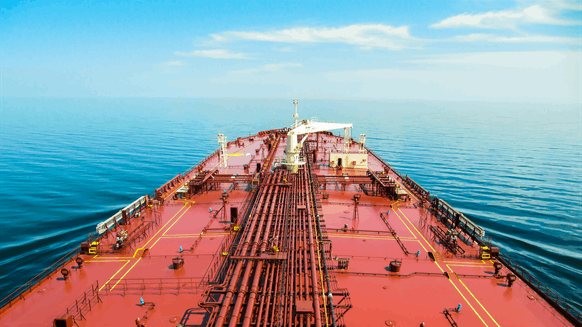 The offshore deepwater port would be located near Corpus Christi.
Phillips 66 reported Friday that it has formed a joint venture (JV) with Trafigura Group Pte. Ltd to develop an offshore deepwater port approximately 21 nautical miles east of the entrance to the Port of Corpus Christ, Texas.
The 50/50 JV, Bluewater Texas Terminal LLC, has proposed building a port facility comprising up to two single point mooring (SPM) buoys capable of fully loading very large crude carrier (VLCC) vessels to export crude oil, Phillips 66 noted in a written statement emailed to Rigzone. The firm also stated the project – currently in the permitting stage – should reach the final investment decision stage later this year, pending permit approval and customer volume commitments acceptable to the JV partners.
According to Phillips 66, Trafigura has withdrawn its application with the U.S. Maritime Administration develop the Texas Gulf Terminals deepwater port facility. The commodities trading group had submitted the application to MARAD in July 2018.
Phillips 66 contends that it brings to the JV commercial expertise, an existing U.S. Gulf Coast infrastructure network and operating experience – having operated an SPM buoy in the U.K. for 49 years. Trafigura, meanwhile, offers its background as a leading crude oil exporter and marketer, Phillips 66 added.
A map provided by Phillips 66 shows the location of the proposed deepwater port. Information about the Bluewater Texas proposal on MARAD's website states the facility would be capable of loading up to approximately 80,000 barrels of crude oil per hour onto tankers and likely would service 16 VLCCs per month.
Local officials praised the joint project.
"We salute Phillips 66 and Trafigura for agreeing to partner in a single point mooring export facility, and for recognizing the Port as an integral part of the success of this ambitious yet much-needed capability," Port of Corpus Christi CEO Sean Strawbridge commented in a written statement from his organization.
The Port of Corpus Christi also noted that it plans to lease land and rights-of-way to support the Bluewater Texas venture.
"This project is indicative of the need for additional U.S. and Texas energy export infrastructure and we couldn't be more thrilled by these two reputable companies joining forces," concluded Charles W. Zahn, Jr., chairman of the Port of Corpus Christi Authority.
To contact the author, email mveazey@rigzone.com.
Generated by readers, the comments included herein do not reflect the views and opinions of Rigzone. All comments are subject to editorial review. Off-topic, inappropriate or insulting comments will be removed.