Permian Basin Refinery Project Doubles in Capacity
|
Tuesday, December 12, 2017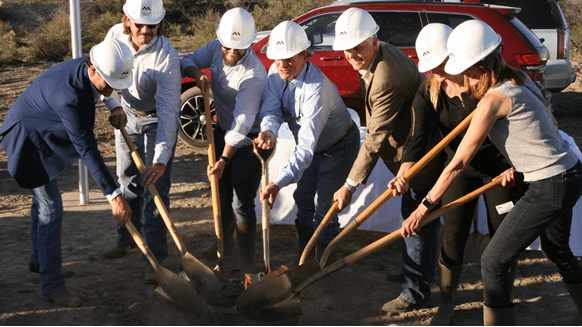 With project expansion, region's refining capacity to grow from 300,000 to 400,000 bpd. SOURCE: MMEX Resources Corp.
The developer of a planned West Texas refinery has decided to increase crude oil processing capacity in the Permian Basin by one-third rather than one-sixth.
MMEX Resources Corp, which in March of this year unveiled plans to build a 50,000-barrel per day (bpd) refinery in Pecos County, Texas, on Nov. 17 broke ground on the facility's 10,000-bpd crude distillation unit (CDU). Moreover, the company has raised the capacity of its planned refinery – to be built on a 250-acre site northeast of Fort Stockton – to 100,000 bpd. The Permian Basin's three existing refineries can process 300,000 bpd of crude oil, and MMEX plans to start the permitting process for its refinery early next year.
MMEX's project will be one additional outlet for growing Permian crude oil production. In just the past week, companies such as Enterprise Products Partners L.P. and Phillips 66 and Enbridge have announced projects to add crude pipeline takeaway capacity from the region.
"By increasing the refinery's capacity to 100,000 bpd, we are able to double the output of the refinery for only one-third of the increase in CAPEX," Jack W. Hanks, MMEX's president and CEO, told Rigzone late last week.
When it initially announced the refinery project, MMEX had projected a $450 million cost for the then-50,000-bpd planned facility. Since then, the initiative – in addition to getting a larger price tag of roughly $600 million and beginning construction on the CDU – has cleared various milestones, Hanks noted. He explained that the initial CDU phase is a distinct project from the full-scale refinery and has been permitted separately from the larger, "Phase II" refinery component. He said that MMEX expects to kick off Phase II permitting during the first quarter of 2018.
The CDU/Phase I construction should support approximately 100 jobs and create 25 to 30 full-time positions once the unit begins operations by the end of 2018, said Hanks. Phase II will require roughly 400 construction jobs and some 100 full-time positions during operations, he added.
"We're very pleased with the progress of the Pecos County refinery to date and look forward to big things ahead in 2018," concluded Hanks.
Generated by readers, the comments included herein do not reflect the views and opinions of Rigzone. All comments are subject to editorial review. Off-topic, inappropriate or insulting comments will be removed.