Pennsylvania C-store Chain Leans Natural, Organic and Alternative
|
Tuesday, February 06, 2018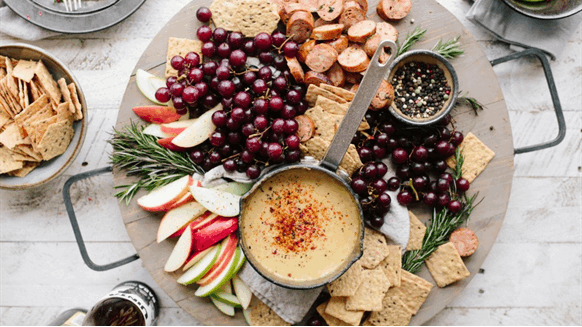 Cleopatra Resources' American Natural brand combines two disparate experiences. PHOTO SOURCE: American Natural.
As the National Association of Convenience Stores (NACS) points out, more than 150,000 "c-stores" sell fuel, food and merchandise to roughly one-half the U.S. population on a given day. Given the abundance of c-store choices American motorists enjoy, players in this highly competitive industry often try to differentiate themselves by offering customers an experience unique to their respective brands.
Pittsburgh-based Cleopatra Resources, which owns a network of western and central Pennsylvania c-stores operating under the American Natural brand, combines two disparate experiences: shopping at a small-scale version of a popular supermarket specializing in natural and organic foods and tanking up a fleet vehicle.
American Natural locations sell organic snacks, craft beers, gourmet pizzas, specialty coffees and other "Whole Foods-esque" products along with traditional c-store mainstays. Moreover, they sell compressed natural gas (CNG) in addition to gasoline and diesel. The c-store chain is growing. American Natural recently acquired a wholesale, commercial and specialty service fuel distribution firm that services customers from central Pennsylvania to eastern Ohio, including well pad fueling service across the Marcellus and Utica fairways.
"We have no knowledge of anyone else doing it," Jennifer Pomerantz, Cleopatra's chairman and CEO, told Rigzone. She explained that her company's integrated approach spans convenience and retail traditional and alternative fuels in the downstream as well as commercial fuel sales and natural gas production in the upstream. Adding premium and locally sourced items to American Natural shelves further distinguishes the regional company from its competitors, she observed.
Regarding American Natural's sale of CNG, Pomerantz said the fuel is "more of a commercial diesel substitute" than a retail offering – although any customer is welcome to buy it. "That's just a medium-term reality for the product," she said, adding that she sees robust opportunities among commercial fleets looking to switch from diesel to CNG.
For CNG to gain popularity beyond commercial fleets, CNG-powered vehicles will need fuel tanks that are less bulky, continued Pomerantz. They require "a technology shift in terms of the CNG tank," she said. "People are more and more open to using alternative energy products, provided they're affordable and that they can still have adequate space in the trunk."
Although the outlook for broader CNG adoption among U.S. passenger vehicles is unclear, Pomerantz said that she's bullish about the broader growth trend in which the natural gas industry – not to mention her company – finds itself.
"I think that it's a very exciting part of the change underway in the natural gas industry," she concluded. "There hasn't always been an opportunity for a sector change for natural gas – to add value both at the well pad and at the pump."
Generated by readers, the comments included herein do not reflect the views and opinions of Rigzone. All comments are subject to editorial review. Off-topic, inappropriate or insulting comments will be removed.