Oxy Agrees to Buy Anadarko for $57B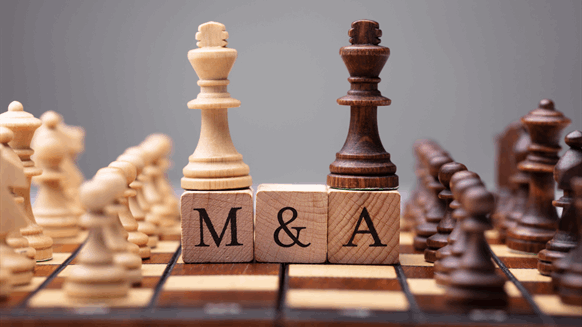 Occidental has entered into an agreement to buy Anadarko.
Occidental Petroleum Corporation has entered into a definitive agreement to acquire Anadarko Petroleum Corporation.
The deal, which is for $59 in cash and 0.2934 shares of Occidental common stock per share of Anadarko common stock, is valued at $57 billion, including the assumption of Anadarko's debt.
This transaction creates a $100+ billion "global energy leader" with 1.3 million barrels of oil equivalent per day of production, according to Occidental. The company said the deal provides "compelling strategic and financial rationale for all stakeholders".
Occidental expects to fund the cash portion of the consideration through a combination of cash from its balance sheet and fully committed debt and equity financing, including proceeds from a previously announced $10 billion equity investment by Berkshire Hathaway, Inc.
The transaction has been unanimously approved by the boards of both companies and is expected to close in the second half of 2019. The deal is subject to customary closing conditions, including approval from Anadarko's shareholders and the receipt of regulatory approvals.
"This exciting transaction will create a global energy leader with a world-class portfolio, proven operational capabilities and industry leading free cash flow metrics," Vicki Hollub, president and chief executive officer of Occidental, said in a company statement.
"This transaction further establishes Occidental as a premier operator in prolific global oil and gas regions with the ability to deliver production growth of five percent through investment in projects with industry-leading returns," Hollub added.
"With greater scale, an unwavering focus on driving profitable growth and our commitment to growing our dividend, we are creating a unique platform to drive meaningful shareholder value," Hollub continued.
Commenting on the deal, Anadarko Chairman and CEO Al Walker said, "we are pleased to have reached an agreement with Occidental that delivers significant, near-term value to our shareholders".
"Anadarko's employees have strategically assembled a premier portfolio of world-class assets and this transaction would not have been possible without our board's leadership over the past several months," he added.
"We are proud of the substantial premium we have delivered to our shareholders and look forward to working with Occidental to ensure a smooth transition," he continued.
Chevron revealed on April 12 that it had entered into an agreement to buy Anadarko. Twelve days later, Occidental Petroleum Corporation announced that it had made a proposal to acquire Anadarko. The company then went on to alter its offer last week.
On Monday, Anadarko announced that it intended to terminate its Chevron merger deal in order to enter into a merger agreement with Occidental. Anadarko confirmed on Thursday that it had terminated its deal with Chevron and that it had paid the company a termination fee of $1 billion.
An Occidental representative did not respond to an emailed question from Rigzone on Thursday asking if the company saw any staff layoffs as a result of its deal with Anadarko. The company has, however, revealed that it expects to deliver $3.5 billion of free cash flow improvement through $2 billion of "annual cost synergies" and $1.5 billion of annual capital reductions.
Occidental has already entered into a binding agreement to sell Anadarko's Africa assets to Total S.A. for $8.8 billion.
Generated by readers, the comments included herein do not reflect the views and opinions of Rigzone. All comments are subject to editorial review. Off-topic, inappropriate or insulting comments will be removed.