OPEC's Production Cut Has Limited Upside for Oil Prices
|
Monday, December 23, 2019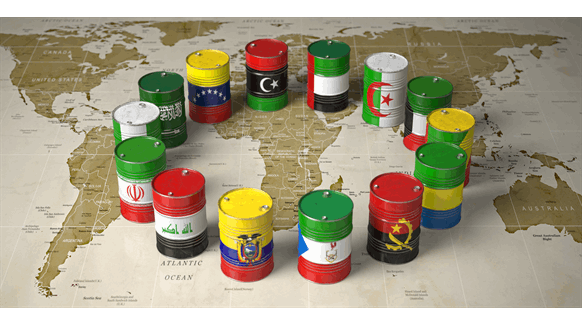 Demand concerns and an expected flood of non-OPEC barrels could bring the group uncertain rewards and limited price support.
But even at that level of compliance, the figure would fall short of the non-OPEC growth figure resulting in a loss of market share for OPEC+. That's even before the potential for demand decline is factored in. Most surveys and forecasts put global demand growth for 2020 in the range of 800,000 bpd to 1.4 million bpd. I am inclined to vote in favour of the lower end of the range given the macroeconomic uncertainties on the horizon.
Of the big five crude importers, the U.S. is turning less to the global market, and primarily for heavy sour crude, China's demand growth is nowhere near the rate it was at the turn of the decade, while Japan and South Korea are importing less crude on an annualized basis. Only, India's demand growth is holding firm and that too is looking uncertain.
Add to that the U.S.-China trade spat which is a long way from being resolved. It is unlikely to be settled anytime soon given the number of false dawns and extensions to talks the market has had to endure.
Other macroeconomic uncertainties such as drop in German, Chinese activity, Brexit uncertainties and negative outlooks on a range of emerging markets from Argentina to Turkey are also clouding the demand picture.
Take both sides of the coin, and all OPEC+ members have done is exceed market expectations of a rollover of the existing cuts by deepening them further. An inescapable fact remains that the group is losing market share, and will continue to do so, all probably just to hold the oil price floor above $60 per barrel using Brent as a benchmark.
Ultimately, the move lacks and an exit strategy and all what OPEC and its allies have done is given up yet more ground. That conceded ground would be happily taken by non-OPEC players storing up trouble for OPEC+ and put its discipline of complying with the ongoing cuts under pressure.
Furthermore, many of the 14 OPEC and 10 non-OPEC producers who have signed up to the cuts have proven unreliable in the past on the issue of compliance. Should the group's discipline break to the Saudi's frustrations resulting in an opening up of the taps, all bets are off. Whichever way you look at it, for now the price upside remains limited and uncertain despite OPEC+ action.
Gaurav Sharma is an independent oil and gas analyst with over 15 years experience. He provides regular market commentary for events, publishers and broadcasters. Follow him on Twitter @The_Oilholic or email at gaurav.sharma@oilholicssynonymous.com
1
2
View Full Article
Generated by readers, the comments included herein do not reflect the views and opinions of Rigzone. All comments are subject to editorial review. Off-topic, inappropriate or insulting comments will be removed.