OPEC Sec Gen: Lack of Investment 'Sowing Seeds for Future Energy Crisis'
by Valerie Jones
|
Rigzone Staff
|
Monday, March 05, 2018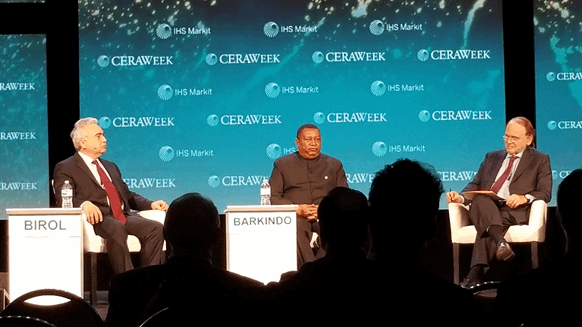 IEA executive director Fatih Birol and OPEC secretary general Mohammad Sanusi Barkindo discuss challenges facing the oil and gas industry during the CERAWeek by IHS Markit conference in Houston.
There's no sign of peak oil any time soon. Quite the contrary. Strong, robust growth driven by China and India are one of three things the International Energy Agency's (IEA) executive director Fatih Birol said to consider during the CERAWeek by IHS Markit conference's opening day March 5.
In addition to oil demand, Birol said that the United States will also put its stamp on global oil supply in the next five years, which is also what was reported in the IEA's annual report, released earlier that day. The IEA report was based off a $60 oil environment, Birol said. The United States, along with Brazil, Canada and Norway are expected to make up a large chunk of the supply.
"Don't confuse being the largest oil producer with being the largest exporter," said Birol. "The U.S. is the number one producer. But the number one oil exporter is Saudi Arabia. The Middle East is still the most important oil exporting region."
Lastly, investments – or lack thereof – will be a problem.
2017 was flat and 2018 isn't looking too much better.
"Investments are not sufficient enough to make us feel comfortable; the investment appetite is still weak," he said.
OPEC shares the same sentiment, according to OPEC secretary general Mohammad Sanusi Barkindo, who said investment in 2018 isn't looking "very positive," and that it's a concern of oil producers and consumers.
"We are sowing the seeds for a future energy crisis," said Barkindo.
OPEC/NOPEC Production Cuts
When asked about OPEC and NOPEC agreement updates, Barkindo had this to say, "all I can say at the moment is the general consensus is that it's in the best interest of this industry as well as the consumers that we should continue within this framework in order to sustain stability in this market and the industry. We see this alliance as an assurance against future volatility and price cycles. This current cycle was probably the worst cycle in terms of negative consequences. The lessons that we have learned from this cycle will now be mitigated by the institutionalization of this alliance going forward."
Generated by readers, the comments included herein do not reflect the views and opinions of Rigzone. All comments are subject to editorial review. Off-topic, inappropriate or insulting comments will be removed.
RELATED COMPANIES