OPEC Faces Increasing Competition
|
Thursday, November 28, 2019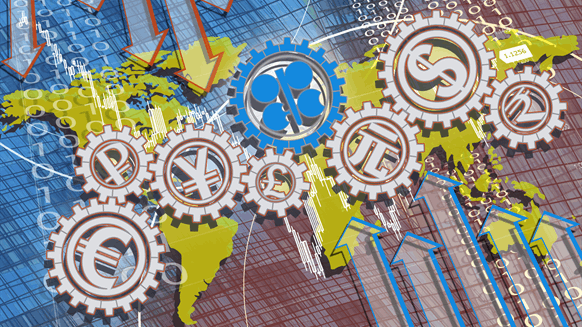 There are a number of interrelated drivers behind the worldwide demand for crude.
Global oil demand growth is likely to slow. That is the prediction of OPEC's November World Oil Outlook, which revised last year's projections downward. From current global oil demand of about 99 million barrels a day (bpd), it forecasts a rise to just 104.8 by 2024, reaching 110.6 million bpd by 2040.
As for OPEC's own production of crude oil and other liquids, the report forecasts a decline from 35 million bpd this year to 32.8 million bpd by 2024. In contrast, and somewhat surprisingly considering the current climate anxiety, OPEC expects its members' production of crude to rise to around 44.4 million bpd in 2040.
The demand drivers
There are a number of interrelated drivers behind the worldwide demand for crude. Overall, OPEC expects a slow-down in the demand growth for oil, largely attributable to a peak in demand from OECD countries. However, rising demand from non-OECD countries will underpin oil production at least for the next two decades. Thus crude prices, alongside expectations of demand, will continue to govern the pace of exploration and development. But the prevailing known-unknown in this equation is the velocity at which gas, renewable energy and electrification of transportion occurs, all at the expense of crude.
OPEC's Competitors
OPEC member countries currently produce about 40 percent of the world's crude. Equally important for global prices, OPEC's oil exports represent about 60 percent of the total petroleum traded internationally. Nevertheless, OPEC fears a future loss of market share with rising crude production from non-members including most notably the US, Norway, Brazil, Canada, Guyana, Kazakhstan as well as others, all of whom are expected to continue to add supplies. A case in point is the U.S., where production of tight oil is forecast to reach 16.9 million bpd in 2024 compared to 12.0 million bpd this year. Even though the rate of growth of shale oil production is anticipated to slow it will nevertheless peak at a hefty 17.4 million bpd in 2029.
Impact on OPEC members
So far, rising production from non-members has contained crude price rises, thanks to the collapse of legitimate exports of crude from Iran and Venezuela, both under America's trade embargoes as well as depressed exports from unstable Libya.
To uphold crude prices, OPEC plus Russia have continued with production cuts first introduced in November 2016. Surprisingly high obedience to the agreed supply cuts has maintained global prices at around $65 a barrel. Also global spare production capacity has risen by 3.3 million barrels a day, of which Saudi Arabia accounts for 2.2 million bpd, and a further 1 million bpd is shared amongst the United Arab Emirates, Iraq and Kuwait. The success of OPEC's plus production cut of 1.2 million bpd, which runs until the first quarter of 2020, is seen in a Brent crude price of $62 a barrel during November.
The prospect of oil prices remaining subdued should encourage OPEC members, especially those in the Middle East, to diversify and reduce their oil dependency. Excluding the UAE and Oman, reform and economic diversification has been underwhelming especially in Saudi Arabia, home of Saudi Aramco, the world's most profitable and secretive oil company. Lack of transparency of its accounts, reserves and independence has slowed the timetable for its partial flotation and necessitated a £200 million global marketing campaign to woo potential investors.
Prospects
To uphold crude prices in support of their public expenditure, OPEC members may conceivably maintain their existing production cap. In coming years, global climate policies could accelerate a reduction in demand for crude, leaving Saudi Arabia a hostage to stranded oil assets.