OPEC Aims to Prop Up Oil Prices
|
Tuesday, December 31, 2019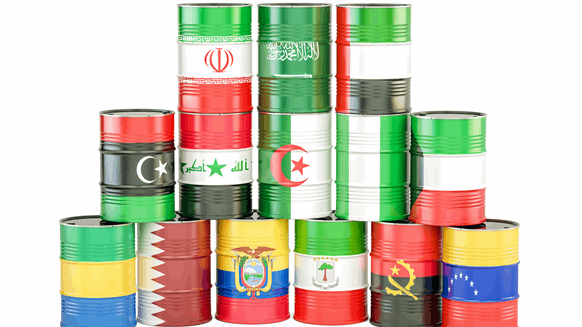 Even if all OPEC members and Russia were to comply 100 percent, global oil inventories could still rise by 700,000 b/d in 1Q 2020.
At December's meeting in Vienna, OPEC plus agreed production cuts of 500,000 barrels a day for the first quarter of 2020. This is over and above the production cut of 1.2 million b/d (m b/d) announced a year ago. Furthermore, Saudi Arabia continues to shoulder most of the extra voluntary cuts in output, in an attempt to balance the market and support crude prices. However, in reality both Nigeria and Iraq will continue to produce more than their allotted quota thus reinforcing the Paris based IEA 's projection that, even if all OPEC members and Russia were to comply 100 percent, global oil inventories could still rise by 700,000 barrels a day in the first quarter, due to weak demand in the global economy. This would hold prices down.
Impact on oil prices
Benchmark Brent crude was $62 a barrel on Nov. 12 and rose to $65 a barrel after the OPEC meeting announcement. This modest uptick in Brent crude prices demonstrates that oil traders are not very impressed with OPEC's decision, which in truth; just made official the unofficial extra production cuts they have made for much of the past year.
In addition, Rystad Energy market research modelling suggests that in order to balance the market, OPEC would need to reduce crude production to 28.9 million bpd – a drop of 0.8 million bpd from the level seen in the fourth quarter of 2019-levels. This projection is based on forecasts for demand, estimates of non-OPEC supply increases from Brazil, Canada, Norway and Guyana, as well as the impact of new International Maritime Organisation 2020 regulations on oil used as fuel for ships. Therefore, global output will continue to exceed OPEC and its alliance's production cuts.
Why there is an oil surplus?
The flood of crude will arrive even as concerns about climate change are growing and worldwide oil demand is slowing. And it is not coming from the usual producers, but from Brazil, Canada, Norway and Guyana, countries that are either not known for oil, or whose production has been lacklustre in recent years. Together, these four countries alone stand to add nearly a million barrels a day to the market in 2020 and a further million more in 2021. That boost in production, along with global efforts to lower emissions, will almost certainly push oil prices down.
But above all, on the supply side is the emergence of the U.S. as a major oil producer, which has turned the country into a net oil exporter for the first time in decades. Burgeoning shale oil has succeeded in holding down crude prices to between $60-$70 a barrel. However, some traders are betting that U.S. shale production could slow in 2020, after a period of lower prices and signs that the industry is no longer prepared to spend so aggressively to fund growth.
One thing is clear, unless global oil producers come to an agreement to cap output it is likely that OPEC+ members will need to make further cuts in order to maintain crude oil at around $60 plus a barrel. Perhaps this is why Aramco recently went for a partial privatisation. The projected oversupply in oil during the first half of 2020 will be good news for consumers at petrol stations in oil importing countries including China, India and Japan. When the uncertainty surrounding the US-China trade war is settled their demand, along with other oil importing countries, could help to mop up crude supplies.
However, in the longer term demand for crude will be weak due to energy efficiency measures, electrification of transport and ongoing declines in energy intensity in OECD countries.
Generated by readers, the comments included herein do not reflect the views and opinions of Rigzone. All comments are subject to editorial review. Off-topic, inappropriate or insulting comments will be removed.