OKEA Enters Brasse License
|
Thursday, January 05, 2023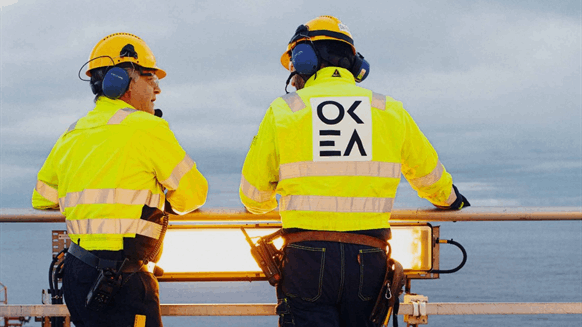 Effective January 1, 2023, OKEA has secured a 50 percent working interest in the Brasse license in the North Sea.
OKEA has signed a sale and purchase agreement (SPA) with DNO Norge securing a 50 percent working interest (WI) in the Brasse license (PL740).
The entry into the Brasse license is effective January 1, 2023. With the conclusion of the transaction, both OKEA and DNO Norge hold a 50 percent working interest in the license.
The target of the new partnership is to undertake a fast-track, low-cost review to assess whether a value accretive development concept can be found for the estimated 30 mmboe recoverable volumes at Brasse, which is located only 13 km (8 miles) from the OKEA-operated Brage field.
The transaction is subject to an extension of the license and approval by the Ministry of Petroleum and Energy. The transaction itself is executed at zero cost to OKEA.
Brasse is an oil and gas discovery in the northern North Sea, 8 miles south of the Brage field and 8 miles southeast of the Oseberg Field Center. The water depth is 120 meters (394 feet). The discovery was made in 2016 and delineated by four wells in the period from 2017 to 2019. The reservoir contains oil with a gas cap in the Upper Jurassic Sognefjord Formation.
At the start of November last year, OKEA became the operator of the Brage field following a sale and purchase deal signed with Wintershall Dea in May 2022. Through the acquisition, OKEA has added a new operatorship to its portfolio and increased production and reserves by 30-40 percent.
OKEA has acquired 35.2 percent operated working interest in the Brage unit, 6.4615 percent WI in the Ivar Aasen unit, and 6 percent WI in the Nova field from Wintershall Dea for an initial cash consideration of $117.5 million.
In addition to the fixed consideration, OKEA shall pay Wintershall Dea an additional contingent consideration based on an upside-sharing arrangement subject to the oil price level during the period 2022-24. Wintershall Dea will retain responsibility for 80 percent of OKEA's share of total decommissioning costs related to the Brage Unit.
The assets comprise three high-quality producing assets, all located in the Norwegian North Sea, with expected combined net production of at least 7,000 boepd in 2023 and net 2P reserves of 13.2 mmboe.
To contact the author, email andreson.n.paul@gmail.com