Oil Workers Wanted with More Tech, Less Roughneck
|
Thursday, January 09, 2020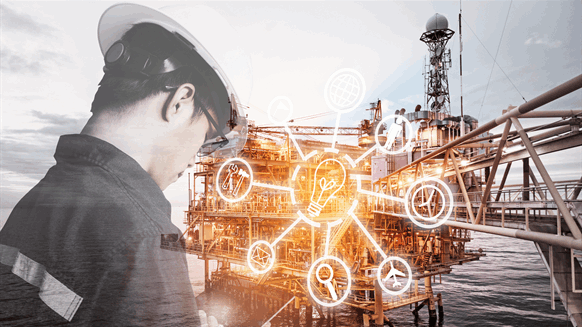 Oil companies are recruiting a different type of worker and in larger numbers.
The oil industry is facing a talent challenge, caused in part due to the aging nature of its workforce, market conditions and a decline in interest by potential recruits to seek employment in the industry. One solution the oil business is adopting is investment in new innovative technologies, which cuts costs and boosts productivity.
Because of the growing investment by the industry in artificial intelligence, automation, cloud computing, etc., employers are recruiting a different type of worker, to lessen the brain drain and skills gap the business is experiencing.
The industry is seeing a growing number of technology workers are being recruited, including scrum masters, data scientists, cloud architects and even user experience designers.
Competition from other industries
The trouble for oil business recruiters in attracting new technology workers is that the very specific skill sets required by oil firms are also needed by rival employers including aerospace, high technology and logistics. For example, artificial intelligence and automation experts are in high demand throughout the world economy.
To overcome the oil industry's recruitment problems, employers are offering more flexible and generous benefits, as well as better training of existing staff.
An image problem
The industry has an image problem with many of its potential recruits, especially with students. To overcome this problem, the oil business is automating many of the dirty, on-the-ground work, so as to create a less dangerous, less environmentally impactful and more attractive workplace.
There is also the issue of job security; ever since the 2014 oil price crisis, the media has reported job losses, industry cutbacks and consolidation, as the business experiences a tougher business climate.
Tackling the heavy lifting
To reduce the need for certain types of jobs, investment in automation is taking place, integrated with artificial intelligence. Such innovative applications not only cut costs, but, also improve health and safety, whilst at the same time boosting exploration and production results.
Already, we are seeing innovative technology applied to such time consuming and physically difficult tasks such as site inspections and surveys, and also well logging. With site inspections and surveys, drones are being used to take over such tasks, rather than sending employees to scale and inspect difficult and often dangerous structures such as oil platforms. As for well logging, this is the process of collecting data about geologic formations penetrated by the drill head. Increasingly, the collection of such information is automated, and the data processed by computer.
Outsourcing and changing culture
Because of the success of technology investment, the industry is working with high technology start-ups to further exploit the potential benefits of such innovations. With Canadian based pipeline network operator Enbridge, Anglo-Dutch owned Royal Dutch Shell, and the oilfield services contractors Schlumberger and Baker Hughes, all have opened Silicon Valley-style innovation campuses which have a culture suitable to attract promising talent and develop future technology for the industry.
With oilfield contractor Baker Hughes (BH), it has signed a deal with California-based artificial intelligence company C3.ai and Seattle based software services Microsoft, to develop and offer new artificial intelligence services to its oil industry customers. At its Energy Innovation Center in Oklahoma City, BH clients come to meet its innovators with their real-life operational problems to solve. Then its innovation teams come up with marketable solutions to client's problems to pitch to Baker Hughes' decision makers.
One thing is clear; the nature of the oil industry is changing, as it faces an ever tougher business environment and recruitment challenges. Because of its increasing interest in innovation to solve its problems, another thing is certain, energy companies of the future will be technology firms that provide a range of energy-related products and services. In addition, many of the innovations they develop will have practical application elsewhere in the global economy in the future.
Generated by readers, the comments included herein do not reflect the views and opinions of Rigzone. All comments are subject to editorial review. Off-topic, inappropriate or insulting comments will be removed.