Oil Workers Evacuate GOM Rigs as Storm Strengthens
by Bloomberg
|
Mike Jeffers & Brian K. Sullivan
|
Wednesday, July 10, 2019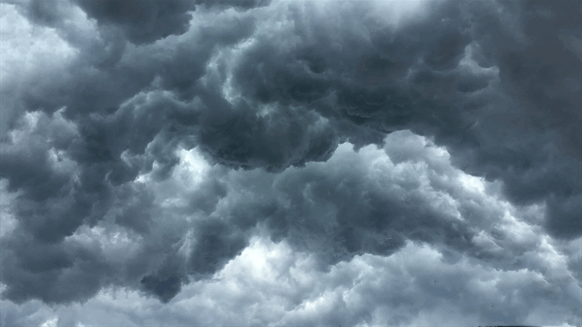 Oil and natural gas producers in the U.S. Gulf of Mexico began evacuating workers and shutting in output as a storm gathers strength off the coast of Florida.
(Bloomberg) -- A storm in the Gulf of Mexico that's already flooding New Orleans could grow into a hurricane before slamming into Louisiana this week, drenching the region with as much as a foot of rain and causing almost $1 billion in damage.
The system, about 125 miles (200 kilometers) southeast of the Mississippi River's mouth as of 5 p.m. New York time, has already spurred platform evacuations and cut 32% of oil output and 18% of natural gas production in the Gulf of Mexico. It could turn into a tropical storm by Thursday and become Hurricane Barry on Friday.
Hurricane and tropical storm watches are in place along the Louisiana coastline, where the governor has declared a state of emergency. The storm could drop as much as a foot (30 centimeters) of rain, with some areas getting 18 inches. The Mississippi River could be pushed to its highest levels in 90 years.
"This is going to be a Louisiana event with coastal flooding and heavy rainfall potentially impacting every part of the state," Louisiana Governor John Bel Edwards said on Twitter. "No one should take this storm lightly. As we know all too well in Louisiana, low intensity does not necessarily mean low impact."
Storm Heads for Louisiana
The storm's forecast track means it will have more time over warm Gulf waters that will fuel its strength, said Jim Rouiller, chief meteorologist at the Energy Weather Group in Philadelphia.
In addition to wind, the system is expected to swamp coastal areas of Louisiana with a life-threatening storm surge. Cotton, orange juice and sugar all rose on fears that the storm will disrupt supply.
"After the markets were beaten down recently, the storm potential was enough of a spark to give the markets a bounce," Judith Ganes, president of J. Ganes Consulting, said in an email.
Gulf of Mexico operators have shut 602,715 barrels a day of oil production ahead of the storm, the Bureau of Safety and Environmental Enforcement said in a notice. Almost 500 million cubic feet a day of natural gas production is also shut.
Chevron Corp. said Tuesday that it began shutting in five of its platforms in the Gulf and is starting to evacuate all associated personnel. Royal Dutch Shell Plc curbed production and evacuatied non-essential personnel at seven platforms. BP Plc and Exxon Mobil Corp. also began removing offshore personnel.
Operator | Platform Evacuated
Chevron | Petronius, Blind Faith, Genesis, Tahiti, and Big Foot
BP | Mad Dog, Atlantis, Thunder Horse and Na Kika
Shell | Mars, Ursa, Olympus and Appomattox, Auger, Salsa and Enchilada
Anadarko | Constitution, Holstein, Marco Polo, Heidelberg
BHP | Neptune, Shenzi
ConocoPhillips | Magnolia
Exxon | Personnel evacuated from three platforms
Enbridge | Deepwater pipelines shut, some staff evacuated from unspecified platforms
The Gulf offshore region accounts for 16% of U.S. crude oil output and less than 3% of dry natural gas, according to the Energy Information Administration. More than 45% of U.S. refining capacity and 51% of gas processing is along the Gulf coast.
While the offshore platforms could return to normal operations in a few days, there is a chance widespread flooding could close some refineries and make it difficult for ships to make deliveries across the region, Jim Rouiller, chief meteorologist at the Energy Weather Group in Philadelphia, said by telephone.
"The first impact is to the rigs and platforms, then the second risk shows up on Friday and Saturday to the refinery areas," Rouiller said. "The thing that is going to be really worrisome is the amount of flooding rains across Louisiana. I think the worst is yet to come."
The storm could push a 3 to 5 foot storm surge up the lower Mississippi, raising the river to its highest levels in 90 years, according to the National Weather Service. "It would be the highest modern day level," said Jeff Graschel, service coordination hydrologist with the Lower Mississippi River Forecast Center in Slidell, Louisiana.
Following deluges in the 1920s, the Army Corps of Engineers built a series of flood controls that have kept the Mississippi in check in recent years. However, heavy rains across the U.S. have pushed the river into flood stage since January. Flooding caused by Hurricane Katrina in 2005 broke New Orleans' levees, devastating the city. More than 1,800 people died due to the storm.
Thunderstorms have already flooded New Orleans streets after as much as 9 inches of rain fell Thursday and the National Weather Service has issued a flash flood watch from southern Louisiana to the Florida panhandle. City pumps had trouble keeping up with the water, which is a "bad sign," said Chuck Watson, a disaster modeler with Enki Research in Savannah, Georgia.
Based on its current track, the storm will likely cause just under $1 billion in flood damage, Watson said. If heavy flooding breaks out across New Orleans, the cost could rise to $3.2 billion. "Of course if the river backs up a bit more than expected, that would be really bad," he said.
--With assistance from Shruti Date Singh, Kevin Crowley, David Wethe, Rachel Adams-Heard and Ryan Collins.
To contact the reporters on this story:
Brian K. Sullivan in Boston at bsullivan10@bloomberg.net;
Mike Jeffers in Houston at mjeffers2@bloomberg.net
To contact the editors responsible for this story:
Tina Davis at tinadavis@bloomberg.net
Pratish Narayanan, Steven Frank
Generated by readers, the comments included herein do not reflect the views and opinions of Rigzone. All comments are subject to editorial review. Off-topic, inappropriate or insulting comments will be removed.