Oil Prices Up for the Week
by Matthew V. Veazey
|
Rigzone Staff
|
Friday, September 20, 2019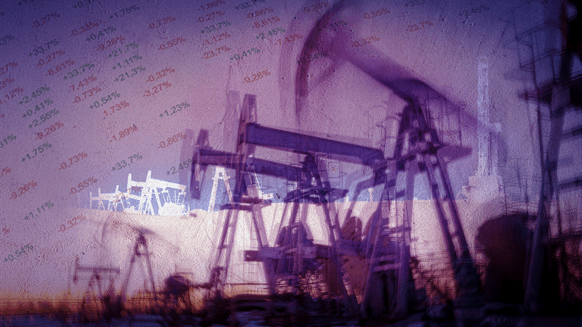 An exciting week for WTI and Brent crude oil future has come to an end.
An exciting week for West Texas Intermediate (WTI) and Brent crude oil futures has come to an end, with both benchmarks declining Friday but holding strong week-on-week gains.
The expiring October WTI lost four cents to settle at $58.09 per barrel. It peaked at $59.10 and bottomed out at $57.79. The WTI for November delivered also ended the day at $58.09 per barrel, reflecting a 10-cent decline. The November contract traded within a range from $57.93 to $59.24.
Compared to the Sept. 13 settlement, WTI is up 5.9 percent.
The November Brent contract price lost 12 cents Friday to settle at $64.28 per barrel. For the week, Brent is up 6.7 percent.
"Everything took a backseat this week," said Tom Seng, Assistant Professor of Energy Business with the University of Tulsa's Collins College of Business, referencing effects of the Sept. 14 attack on Saudi Aramco's Abqaiq crude processing facility and adjacent Khurais oil field.
Although the WTI and Brent surged on Monday and has subsided since then amid Saudi pledges to have production totally restored by month's end, Seng observed that the magnitude of the damage and the critical nature of the facility have left skeptics questioning those assurances. As a Bloomberg report Friday on Rigzone notes, Saudi officials are still assessing whether some damaged equipment is salvageable or needs to be replaced.
"Meanwhile, reports are emerging that the Saudis are drawing heavily on their own inventories and even buying oil from other countries for their own domestic needs in an attempt to honor their export obligations," said Seng. "Given that there is a consensus that Iran was the source of the attacks, the market is now awaiting any possible retaliatory action by the Kingdom or its allies, including the U.S."
Although the Trump administration is imposing additional sanctions on Iran, it has not shelved the idea of launching military action if needed, Seng continued. He added that the U.S. boasts approximately 1 billion barrels of oil inventory combined in both commercial and government storage.
"That amounts to about 60 days of total supply for U.S. refineries, and President Trump has authorized the release of Strategic Petroleum Reserve volumes if needed," Seng noted. "Global inventories are also seen as sufficient to withstand outages of this nature, but concerns abound over the impact on a weakening world economy of higher fuel prices."
Seng added that a bearish inventory report from the U.S. Energy Information Administration (EIA) this week did little to bring oil prices down. He observed that highlights of EIA's Weekly Petroleum Status Report include:
An unexpected 1.1-million-barrel jump in commercial crude stocks – against forecasts calling for a 2 million-barrel drop and an American Petroleum Institute report of a 592,000-barrel increase
Total crude oil in storage at 417.1 million barrels – two percent lower than the five-year average for this time of year
A 647,000-barrel drop in oil stored at the Cushing, Okla., hub, where levels are at 38.7 million barrels – approximately 50 percent of capacity
A 3.9-percent drop in refinery utilization to 17.3 million barrels per day, or 91.2 percent
A year-on-year 13.7-percent drop in imports
Domestic oil production at 12.43 million barrels per day – a slight increase.
Also of interest to the oil market this week was the U.S. Federal Reserve's decision to lower a key interest rate by a quarter point. Seng pointed out, however that the Fed's internal conflict over the decision and its hesitation to do so in the future left financial markets uninspired. He added that the Wall Street Journal's U.S. Dollar index is poised to settle higher this week, explaining that the Saudi oil situation will support prices and counter this normally bearish sign.
"The WTI/Brent spread has widened to the $6 level," continued Seng. "The October WTI NYMEX futures contract will expire today while November is trading right at its five-day moving average but above its 10- and 20-day moving averages. The contract is in a slightly overbought position relative to overbought/oversold conditions according to momentum indicators. Today's volume is strong at around 500,000 contracts."
Reformulated gasoline (RBOB) also faltered during Friday's trading. October RBOB shed two cents to settle at $1.68 per gallon. Despite Friday's decline, however, RBOB is up 8.4 percent week-on-week.
"Despite the huge run-up in oil prices, domestic U.S. gasoline prices did not see anywhere near what a commensurate spike could've looked like," said Seng. "U.S. inventories of total gasoline are still around 230 million barrels, on the high end of the five-year average for this time of year. Average U.S. retail prices were 29 cents per gallon, lower than last year, while NYMEX futures prices are about 42 cents per gallon less than a year ago."
1
2
View Full Article
Generated by readers, the comments included herein do not reflect the views and opinions of Rigzone. All comments are subject to editorial review. Off-topic, inappropriate or insulting comments will be removed.
MORE FROM THIS AUTHOR
Matthew V. Veazey
Senior Editor | Rigzone