Oil Prices Up for the Week
by Matthew V. Veazey
|
Rigzone Staff
|
Friday, March 15, 2019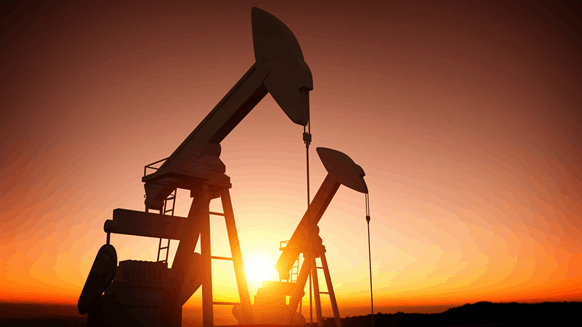 The WTI is up 4.4 percent and the Brent 2.1 percent.
Both the West Texas Intermediate (WTI) and Brent crude oil prices ended the day lower Friday, but the benchmarks are up for the week.
April WTI futures lost nine cents Friday, settling at $58.52 per barrel. However, against the March 8 settlement price, the WTI is up 4.4 percent for the week. The benchmark traded Friday within a range from $57.75 to $58.95.
The May Brent contract price also declined Friday, shedding seven cents to end the day at $67.16 per barrel. Like the WTI, the Brent is up for the week – but at a more modest 2.1 percent.
"Oil rallied throughout the week on strong fundamentals, hitting a four-month high in the process," said Tom Seng, Assistant Professor of Energy Business at the University of Tulsa's Collins College of Business. "Saudi Arabia, the de facto head of OPEC, has committed to further cutting its output, targeting sub-10 million barrels per day (bpd) and cutting exports to less than 7 million bpd."
Seng observed that Saudi Arabia's energy minister has opined that OPEC will not change output quotas at its meeting next month.
"The kingdom had produced an average of 10.7 million bpd in January while the total cartel output for February was estimated to have declined by 220,000 bpd," continued Seng. "Russia and a group of other non-cartel exporters have followed OPEC decisions and are expected to do the same going forward. OPEC's secretary general confirmed the cartel's stance during CERAWeek this week in Houston."
This week's oil rally also received support from a massive power outage in Venezuela that hindered the oil exporter's ability to load tankers, along with a bullish inventory report from the U.S. Energy Information Administration, said Seng. He said that EIA's latest Weekly Petroleum Status Report showed:
A higher-than-expected 3.9 million-barrel (bbl) drop in commercial crude inventories, compared to a 2.6 million-bbl drop in an earlier American Petroleum Institute report
Total inventory down to just two percent above the five-year average for this time of year
A mere 0.01-point increase in refinery utilization to 87.6 percent
A nine-percent year-on-year decline in crude imports
A 627,000-bbl decline in oil stored at the key Cushing, Okla., hub
A 100,000-bbl drop in U.S. oil production to 12 million bpd
Seng also noted that the International Energy Agency (IEA)'s newly released five-year outlook concludes that the OPEC+ group's efforts to reduce the global oil surplus has been effective. However, the IEA report also predicts that a "second U.S. shale revolution" is forthcoming, he said.
"U.S. crude production is expected to represent 70 percent of the increase in global production over the next five years," Seng gleaned from the IEA report. "Additionally, the report indicates that the U.S. will become the world's largest exporter of oil by 2021, surpassing both Russia and Saudi Arabia."
On the economic front, Seng pointed out that oil prices benefited from the week's rising stock market and falling U.S. dollar. He added that the WTI/Brent spread now stands at just above $8 per bbl.
"Technically, the April WTI NYMEX futures contract faces possible retracement next week as the lows today are trading around the five-day moving average while above both the 10- and 20-day moving averages, said Seng. "Momentum indicators show the contract in a slightly overbought condition. Volume remains strong with over 500,000 WTI contract trading every day now. April WTI futures will expire next Wednesday the 20th."
The price of a gallon of reformulated gasoline (RBOB) increased by nearly a penny Friday. The April RBOB contract settled at $1.86, translating into a 3.3-percent gain for the week.
"Unleaded gasoline futures rallied in-sync with oil this week while inventories declined on increasing demand," said Seng. "Total gasoline inventories still remain on the higher end of the five-year average for this time of year. This week, the U.S. Environmental Protection Agency proposed allowing the year-round sale of E15 gasoline, normally restricted during summer months. If approved, this could reduce demand for 100-percent unleaded feedstocks."
Henry Hub natural gas futures were down Friday and for the week. The April contract price lost six cents Friday to settle at $2.795, representing a 2.4-percent loss week-on-week.
1
2
View Full Article
Generated by readers, the comments included herein do not reflect the views and opinions of Rigzone. All comments are subject to editorial review. Off-topic, inappropriate or insulting comments will be removed.