Oil Prices Up for the Week
|
Friday, December 13, 2019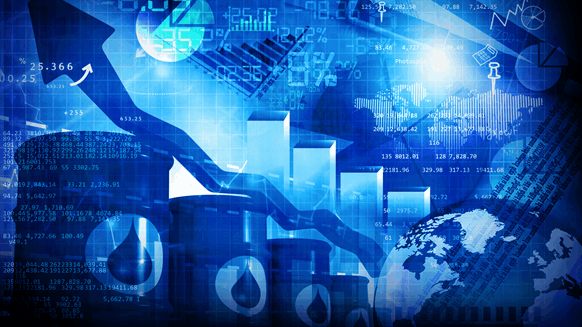 WTI and Brent crude oil futures settled higher Friday.
West Texas Intermediate (WTI) and Brent crude oil futures settled higher Friday, buoyed by progress on trade between the United States and China and the outcome of Thursday's U.K. general election.
The January WTI contract gained 89 cents to settle above the psychologically important $60-mark – $60.07 per barrel, to be exact. The light crude marker traded within a range from $59.27 to $60.48. Compared to the Dec. 6 settlement, WTI is up nearly 1.5 percent.
February Brent ended that day at $65.22 per barrel, reflecting a $1.02 gain. For the week, Brent is up 1.3 percent.
"It was another rollercoaster ride for crude oil this week as the daily saga of U.S.-China trade relations ebbed and flowed while a bearish inventory report, a slight increase in drilling activity and bullish carryover from last week's OPEC meeting all fueled the volatility," said Tom Seng, Assistant Professor of Energy Business at the University of Tulsa's Collins College of Business.
Seng referenced the Trump administration's announcement Friday that China had agreed to a "phase one" of a potential trade deal and that the U.S. will only impose 50 percent of new tariffs set to take effect on Dec. 15. Moreover, he pointed out the outcome of the U.K. election – giving Prime Minister Boris Johnson and his center-right Conservative Party a stronger mandate – adds some certainty to the country's direction and bolsters chances for Brexit to move forward.
Citing the latest Weekly Petroleum Status Report from the U.S. Energy Information Administration (EIA), Seng observed the oil market resource revealed:
A 0.8 million-barrel increase in U.S. commercial crude inventories, countering a 2.8 million-barrel decrease projected by Wall Street Journal analysts and a 1.4 million-barrel decline reported by the American Petroleum Institute
448 million barrels of total crude oil in storage – four percent higher than the five-year average for this time of year
A 3.4 million-barrel decline in oil storage at the Cushing, Okla., hub to 40.4 million barrels total, or approximately 53 percent of capacity
A one-percent rise in refinery utilization to 16.54 million barrels per day (bpd)
A 17-percent year-on-year decrease in oil imports
Steady U.S. oil production at 12.85 million bpd
Seng also noted the January WTI NYMEX futures contract is trading at the top of its "bands," signaling that a possible retracement lower may occur soon.
"Currently, prices are well above the 10- and 20-day moving averages while today's low sits right on the five-day moving average," he said. "Resistance is now pegged at $61.00 with new support at $59.00. The contract is now in a solid overbought position relative to overbought/oversold conditions according to momentum indicators. Today's volume is solid at over 450,000 contracts."
Like crude oil, the price of reformulated gasoline (RBOB) increased Friday. January RBOB added 3.5 cents to settle at $1.66 per gallon. Week-on-week, RBOB is up less than one percent.
"After starting out higher Monday, gasoline futures prices fell until today's rally and now look to finish higher on the week," said Seng. "U.S. inventories of total gasoline rose to 235 million barrels, rising above the five-year average for this time of year. Average U.S. retail prices were 14 cents per gallon higher than last year at $2.56 per gallon while NYMEX futures prices are about 16 cents per gallon above a year ago at $1.65 per gallon."
One day after rising nearly four percent, Henry Hub natural gas for January delivery faltered. January gas futures lost three cents Friday, closing just under $2.30. Compared to a week ago, natural gas is down approximately 1.5 percent.
"Traders Thursday reacted bullishly on a storage report that was only slightly below forecasts," said Seng, adding that the latest EIA Weekly Natural Gas Storage Report showed:
A withdrawal last week of 73 billion cubic feet (Bcf) – below forecasts calling for a 74-Bcf withdrawal
Total inventory at 3.52 trillion cubic feet, or up 593 Bcf (20 percent) year-on-year and down 14 Bcf (0.4 percent) from the five-year average
Dry gas production at 96.3 Bcf per day (Bcfd) last week against 111.8 Bcfd consumption for the period, with across-the-board increases
5.3 Bcfd in gas exports to Mexico and 7.9 Bcfd in LNG exports
"Technically, January natural gas is trading well below its 20-day moving average and right around its five- and 10-day moving averages," Seng concluded. "Momentum indicators are showing a solid oversold condition."
To contact the author, email mveazey@rigzone.com.
Generated by readers, the comments included herein do not reflect the views and opinions of Rigzone. All comments are subject to editorial review. Off-topic, inappropriate or insulting comments will be removed.