Oil Prices Spike Back Up
by Matthew V. Veazey
|
Rigzone Staff
|
Wednesday, September 04, 2019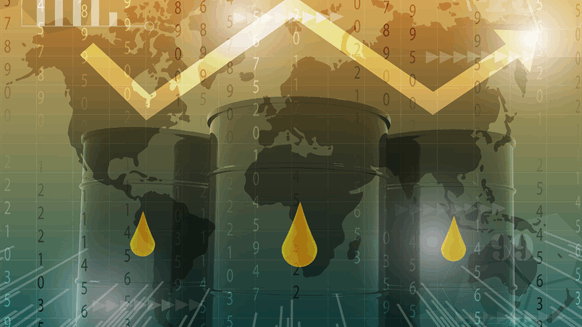 WTI and Brent oil futures posted solid gains Wednesday.
West Texas Intermediate (WTI) and Brent oil futures posted solid gains Wednesday.
The October WTI contract added $2.32 during midweek trading, settling at $56.26 per barrel. The benchmark peaked at $53.84 and bottomed out at $56.58.
Brent crude for November delivery gained $2.44 Wednesday to settle at $60.70 per barrel.
Steve Blair, senior account executive with the RCG Division of Marex Spectron, told Rigzone that a variety of factors continue to influence the petroleum complex. He said that key drivers include:
Reports that some OPEC+ alliance members hiked their monthly production levels in August
A strong U.S. dollar
Ongoing and continuing tensions between the U.S. and China on trade tariffs
A potentially contracting U.S. industrial sector
Brexit
Like most of the petroleum complex, the October WTI continues to trade within a technical range stemming back to early August, noted Blair.
"Today's substantial price spikes now bring this contract back toward the high end of the range close to the $57 level as well as a downtrend line of resistance, which is at the $57.57 level on today's chart," Blair said. "A close above resistance at $57.40 and above the downtrend line would indicate a breakout of this trading range. Such a breakout could see the market propelled to near the $60 level. Support seen around the $53.67 level with $52.85 below that."
Like the WTI, November Brent has also been occupying a wide trading range, said Blair. Referencing a Brent daily chart, Blair observed the Brent is near the higher end of the congestion range with resistance seen at the $61.35 level.
"The downtrend line of resistance for this contract, however, is seen higher than is being seen in WTI relative to the congestion range," said Blair. "There is firm resistance around the $62.68 level with the downtrend line just above that at the $62.93 level today. A breakout, meaning a close above these levels, should propel the market to near $64 and above. Support seen at $59 and again at $58.10."
Reformulated gasoline (RBOB) also finished higher Wednesday. October RBOB settled at $1.53 per gallon, reflecting a six-cent gain. Despite its midweek gain, however, Blair commented that October RBOB has been the "weakest link in the petroleum complex." He pointed out the marker broke down as low as $1.4475 Tuesday before rallying back into the congestion range, which appears on the October RBOB daily chart.
"This market still has a way to go before breaking out of the congestion range - $1.5750 – and will see resistance before that near the $1.5507 level," Blair said.
Blair also pointed out the gasoline crack spread – based on the RBOB daily continuation chart – has reached levels not seen since mid- to late-February of this year. He added that support levels are not the strongest on the chart but are seen at $7.12 and then at $6.81.
Henry Hub natural gas closed higher as well, with the October contract adding nearly nine cents to settle at $2.445.
"Natural gas has taken its cue from weather forecasts that have been spurred by Hurricane Dorian, even though the storm track changed and there was no impact to the eastern U.S. Gulf," said Blair. "However, the hurricane may cause a continuation of the hot weather in the South due to an upper-level ride as Dorian moves northward."
In the longer term, forecasts call for above-average cooling demand, added Blair.
"From the technical perspective, prices have spiked and finally broken out of the sideways congestion pattern on Tuesday as well as breaking and closing above a major downtrend line of resistance as seen on the daily chart," Blair continued. "Next resistance seen around $2.477 on the daily continuation chart and at $2.510 and $2.581 on the daily chart. Supports seen at the breakout at $2.287. A close below this level would indicate a move back to the congestion range."
To contact the author, email mveazey@rigzone.com.
Generated by readers, the comments included herein do not reflect the views and opinions of Rigzone. All comments are subject to editorial review. Off-topic, inappropriate or insulting comments will be removed.
MORE FROM THIS AUTHOR
Matthew V. Veazey
Senior Editor | Rigzone