Oil Prices Settle Lower Amid Demand Fears
by Matthew V. Veazey
|
Rigzone Staff
|
Thursday, October 31, 2019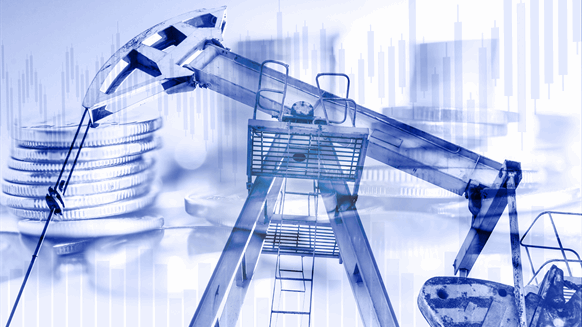 WTI and Brent crude oil prices finished lower Thursday amid negative signs about the direction of the U.S. economy and U.S.-China trade pessimism.
West Texas Intermediate (WTI) and Brent crude oil prices finished lower Thursday amid negative signs about the direction of the U.S. economy and pessimism about progress on U.S.-China trade.
The December WTI contract price settled at $54.18 per barrel, reflecting an 88-cent loss. WTI traded within a range from $53.71 to $55.59.
Brent crude for January delivery shed 62 cents to end the day at $59.62 per barrel.
"Crude oil is trading off on the back of demand fears driving risk reduction across the market," said Michael Roomberg, lead portfolio manager with Miller/Howard Investments' natural gas-focused Energy Fund.
Roomberg told Rigzone that Thursday's regional October Chicago Purchasing Management Index (PMI) report from the Institute for Supply Management (ISM) fell deeply into contraction territory.
"If affirmed by tomorrow's national ISM report, it would indicate that American industrial companies continue to see demand weakness," said Roomberg. "Also, headlines from China overnight indicating that the Chinese government remains opposed to meaningful trade concessions suggests a détente is far from certain."
Campbell Faulkner, senior vice president and chief data analyst with the interdealer commodities broker OTC Global Holdings, echoed some of Roomberg's sentiments.
"Crude today is reacting to the overall softening economic outlook driving prices down," Faulkner said. "Beijing's statements about a lack of a comprehensive trade deal even being possible is putting a further damper on the commodities complex."
Also, Faulkner commented that the WTI and Brent are displaying somewhat non-traditional behavior.
"Overall, crude is reacting to potential global recession fears and not acting in a counter-cyclical trade like it has exhibited in other downturns," he said.
Reformulated gasoline (RBOB) finished the day lower as well. November RBOB lost three cents to settle at $1.63 per gallon.
Henry Hub natural gas, which has surged since Monday, failed to rally for a fourth straight trading day. December gas futures lost six cents Thursday to close at $2.63.
To contact the author, email mveazey@rigzone.com.
Generated by readers, the comments included herein do not reflect the views and opinions of Rigzone. All comments are subject to editorial review. Off-topic, inappropriate or insulting comments will be removed.
MORE FROM THIS AUTHOR
Matthew V. Veazey
Senior Editor | Rigzone