Oil Prices Settle Higher
|
Wednesday, October 16, 2019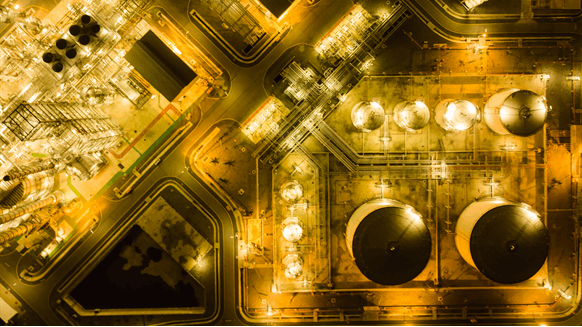 WTI and Brent crude oil futures on Wednesday posted their first day-on-day gains since Oct. 11.
West Texas Intermediate (WTI) and Brent crude oil futures on Wednesday posted their first day-on-day gains since Oct. 11.
"Crude and Brent both continue to trade in a sideways congestion range as traders continue to watch the U.S./China trade talks as well as keeping an eye on the global economic situation and what the U.S. Federal Reserve will do at their next meeting," said Steve Blair, senior account executive with the RCG Division of Marex Spectron. "OPEC Secretary General Barkindo indicated overnight that OPEC will do what it takes to keep the oil markets stable through 2020."
The November WTI contract gained 55 cents Wednesday to settle at $53.36 per barrel. It peaked at $53.74 and bottomed out at $52.51.
"WTI continues to trade in the congestion range trading as low as $50.99 on Oct. 3 and as high as $54.93 on Oct. 11, which tests the lows made back in early June and again seen in early August," referencing a daily price chart for the November WTI. "Expectations are that prices will remain in the congestion range until such time as something changes in the trade talks with China or some other economic nugget."
Brent crude for December delivery ended the day at $59.42 per barrel, reflecting a gain of 68 cents. Like WTI, Brent has traded in a range from the $55.98 low on Oct. 3 to the high of $60.69 on consecutive trading days on Oct. 11 and Oct. 14, Blair noted, citing a daily December Brent chart.
"Like WTI, prices will remain in the congestion Range waiting for reason to either break out to the upside or break down to the downside," he said.
Reformulated gasoline (RBOB) also edged upward during midweek trading. November RBOB added one cent to settle at $1.62 per gallon. Blair observed that refined products continue to lead the petroleum markets. He noted the continued strength of crack spreads in both November RBOB and heating oil reflect that dominance.
In the case of crack spreads between WTI and RBOB, Blair said they have "continued to move higher in almost a straight upside movement since the beginning of September when the November crack spread was around the $7.20 level."
The current resistance at $14.92 on the RBOB vs. WTI crack daily continuation chart is being tested, added Blair.
"A close above that level could propel this crack spread to around $16," he noted.
The Henry Hub natural gas benchmark posted the only loss Wednesday among the commodities tracked by Rigzone. November gas futures lost nearly four cents to close at $2.30.
Citing the daily natural gas chart for the November contract, Blair said the benchmark tested the August lows around the major support of $2.177 – the major support level that last week he said would be tested.
"Prices held and have since rebounded on both technical buying in the market as well as some indications of cooler weather, and thus some consumer heating demand, in areas of the upper Midwest and in the Northeast," Blair concluded. "Further forecasts of cooler weather as we grind through the shoulder month could project prices higher to test the $2.439 and $2.505 resistance levels."
To contact the author, email mveazey@rigzone.com.
Generated by readers, the comments included herein do not reflect the views and opinions of Rigzone. All comments are subject to editorial review. Off-topic, inappropriate or insulting comments will be removed.