Oil Prices Settle Higher
|
Tuesday, December 10, 2019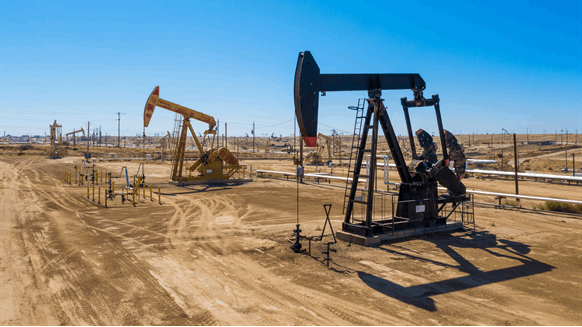 West Texas Intermediate (WTI) and Brent crude oil edged upward during the second trading day of the week.
West Texas Intermediate (WTI) and Brent crude oil edged upward during the second trading day of the week.
The January WTI contract gained 22 cents Tuesday to settle at $59.24 per barrel. It traded within a range from $59.52 to $58.52.
Brent crude for February delivery posted a more modest nine-cent gain, ending the day at $64.34 per barrel.
Vance Scott, Houston-based managing director in the energy practice at global multi-industry consulting firm AlixPartners LLP, observed that crude prices have risen markedly since last week's OPEC+ announcement of a deal to reduce alliance members' oil production quota by an extra 500,000 barrels per day (bpd) – bringing total agreed-upon output curbs to 1.7 million bpd.
"However, even with this recent rally, the market remains cautious on those countries' ability to hold the line, and there is uncertainty in how condensate factors into the overall pricing calculus," said Scott. "Plus, there are other constraining factors on the horizon."
Scott explained that constraints include the fact that Permian, Eagle Ford and Haynesville producers are highly leveraged. Given their hedged positions, they likely will not enjoy the near-term price rally and continue to drive production volumes to make their interest and debt-maturity payments before their hedges roll off, he added.
"That said, North American volume growth will likely be somewhat offset by stabilizing economies elsewhere," continued Scott. "Plus, there's the news this week that the U.S.-Mexico-Canada, or USMCA, trade deal could be getting close to passage in the U.S. Congress. A key wildcard in the overall picture, though, remains the mixed messages of late on the U.S.-China trade front, where both sides seem to be talking around each other."
Tuesday's price movement was also modest for reformulated gasoline (RBOB) – but downward. January RBOB lost well under one cent, settling at $1.65 per gallon.
Meanwhile, Henry Hub posted its first day-on-day gain since Dec. 5. January gas futures closed at $2.26, reflecting a three-cent increase.
Regarding the recent Henry Hub price slump, Scott pointed out that associated gas and mild winter predictions are taking their toll.
"Overall, it looks like associated gas from liquids-rich production is still driving supply, and warmer-than-expected weather forecasts for this winter for much of the U.S. are dampening demand expectations," Scott said. "Coupled with full storage positions today, this supply-and-demand situation could potentially drive gas pricing below the $2 per million British thermal unit mark."
To contact the author, email mveazey@rigzone.com.
Generated by readers, the comments included herein do not reflect the views and opinions of Rigzone. All comments are subject to editorial review. Off-topic, inappropriate or insulting comments will be removed.