Oil Prices Nearly Flat for the Week
|
Friday, January 17, 2020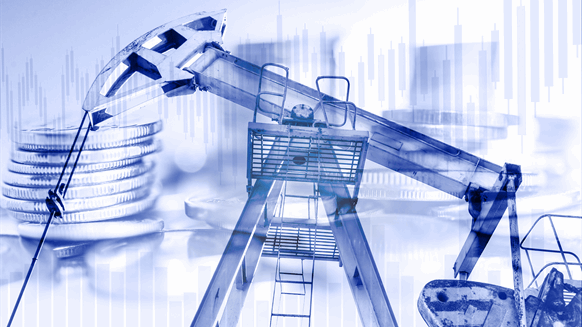 WTI and Brent crude oil futures posted small gains Friday but are down slightly for the week.
West Texas Intermediate (WTI) and Brent crude oil futures posted small gains Friday but are down slightly for the week.
The February WTI contract price gained two cents Friday, settling at $58.54 per barrel. It traded within a range from $58.27 to $58.98. Against the Jan. 10, 2020, settlement price, WTI is down nearly one percent.
Brent crude for March delivery added 23 cents during the late-week session to settle at $64.85. Compared to its week-ago level, Brent is down well under one percent.
"Both grades of crude appear to be headed for slightly lower prices week-on-week today as the U.S.-Iran crisis appears less volatile and as the U.S. and China sign off on the first part of a new trade arrangement," commented Tom Seng, Assistant Professor of Energy Business at the University of Tulsa's Collins College of Business. "However, weak Chinese economic data, a bearish inventory report and a stronger U.S. dollar are holding back any uptick that the strong U.S. stock market should provide."
Citing the lack of any major actions against Iran by the United States save for a new round of economic sanctions, Seng noted that concerns over oil tanker shipments through the Strait of Hormuz appear to have subsided for now.
"According to Phase 1 of the new U.S.-China trade deal, China is pledging to purchase more than $52 billion in U.S. energy products over the next two years," Seng observed. "While this may be good for U.S. oil and gas companies, some of China's current suppliers – such as those in West Africa – could see reduced purchases in order to accommodate this commitment, thus having minimal impact on global prices overall."
Seng added that China's own tariffs on imported U.S. oil and LNG could make "landed" prices uneconomic as well. He also pointed out that China is grappling with declining gross domestic product growth, explaining that the 6.1-percent GDP figure was 2019 was the lowest in three decades – and that many analysts expect GDP growth to be even slower this year.
Although the U.S.-China trade deal propelled the U.S. stock market past historical highs this past week, concerns over a global supply glut countered what should have been an oil price rally, Seng noted. In addition, he pointed out the International Energy Agency (IEA) projected an increase in non-OPEC oil production for 2020.
"On the flip-side, OPEC increased its oil global demand growth for 2020 by 140,000 barrels per day (bpd) to 1.22 million bpd based upon their projected global economic growth of 3.1 percent," he said.
Seng added the latest Weekly Petroleum Status Report from the U.S. Energy Information Administration (EIA) contributed bearish news despite a draw in crude stocks. He pointed out that EIA reported:
A 2.5 million-barrel decrease in commercial crude inventories last week against a 1.1 million-barrel draw forecast from analysts and a 1.1 million-barrel build reported by the American Petroleum Institute
Large product inventory builds for motor gasoline (6.7 million barrels, or five percent higher than the five-year average) and distillates (8.2 million barrels, but still three percent below the five-year average) that should have spurred a more robust rally
A slight, 76,000-bpd increase in refinery utilization to 92.2 percent
A 13-percent drop in oil imports from last year at this time.
"Technically, February WTI futures prices moved back above their five-day moving average this week but remain below both the 10- and 20-day moving averages," said Seng. "Volume is on the decline as the February contract declines next Tuesday and traders turn their attention to March … Momentum indicators show a solid over-sold position for the contract."
Reformulated gasoline (RBOB) edged downward Friday. February RBOB lost more than one cent to end the day at $1.64 per gallon. Week-on-week, RBOB is down 1.2 percent.
"At 258 million barrels, gasoline stocks are at the upper end of the five-year average for this time of year," noted Seng. "Retail gasoline prices averaged $2.57 per gallon last week, down from $2.578 the prior week and versus $2.25 per gallon a year ago. NYMEX Feb20 RBOB prices were $1.66 per gallon, down from $1.75 a week earlier but up from last year's $1.40 per gallon."
Henry Hub natural gas also declined Friday. February gas futures lost seven cents to close at $2. Gas is down 9.1 percent for the week.
1
2
View Full Article
Generated by readers, the comments included herein do not reflect the views and opinions of Rigzone. All comments are subject to editorial review. Off-topic, inappropriate or insulting comments will be removed.