Oil Prices Modestly Mixed for the Week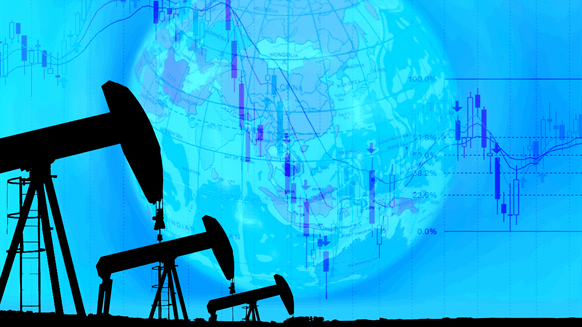 The WTI is up--slightly--for the week while the Brent is down--also slightly--compared to March 1 figures.
Both the West Texas Intermediate (WTI) and Brent crude oil benchmarks settled lower Friday and posted modest changes against their settlements for March 1.
April WTI futures shed 59 cents Friday to settle at $56.07 per barrel. The WTI, up one-half of one percent for the week, traded within a range from $54.52 to $56.51.
Brent crude oil for May delivery lost 56 cents Friday, settling at $65.75 per barrel. The Brent is down less than one percent for the week.
"Oil attempted to make gains early this week after last Friday's crash, only to have fundamentals push prices lower into today," said Tom Seng, Assistant Professor of Energy Business with the University of Tulsa's Collins College of Business. "On Monday, news emerged that Libya had re-started its 315,000-barrel per day (bpd) Sharara oil field, the country's largest, which helped keep a lid on prices rebounding from Friday."
By Wednesday of this week, a bearish report from the U.S. Energy Information Administration (EIA) placed additional downward pressure on oil prices, noted Seng. He explained that the EIA's Weekly Petroleum Status Report showed:
A 7.1 million-barrel increase in commercial crude inventories – far higher than the 1.6 million-barrel increase that a consensus of forecasters had expected
A slight, 0.04-point increase in refinery utilization to 87.5 percent
A 12-percent year-on-year drop in crude imports
An 873,000-barrel increase at the Cushing, Okla., oil storage hub to 47.5 million barrels – slightly more than 60 percent of available capacity
Steady week-on-week U.S. oil production at 12.1 million bpd
Seng also pointed out that crude oil prognosticators have released their projections for average WTI and Brent prices this year and next. The Wall Street Journal banking analysts anticipate average WTI prices of $60 and $63 for 2019 and 2020, respectively, he said. For the Brent, the analysts expect a 2019 average of $67 and a 2020 average of $68, he added.
"On the economic news front, the U.S. trade deficit last year rose to its highest level since 2008, putting a damper on the outlook for GDP growth and, with it, prospects for increased energy consumption," continued Seng. "The U.S. stock market was largely bearish for energy prices as it fell throughout the week. A rising U.S. dollar also hurt any potential upswing in oil prices."
Seng also pointed out that the latest U.S. rig count from Baker Hughes, a GE company, shows nine more oil rigs for last week. In addition, he said that the WTI/Brent spread now stands at approximately $9.20 per barrel.
"Technically, the April WTI NYMEX futures contract should now have some upside potential as it is trading either side of its five-day moving average while just below its 10- and 20-day moving averages," Seng said. "Momentum indicators show the contract approaching a more 'neutral' position with regard to overbought/oversold conditions. Volume remains strong with over 500,000 WTI contracts trading every day now."
The April contract price for a gallon of reformulated gasoline (RBOB) lost less than one cent Friday to settle at $1.80. Week-on-week, RBOB is up four percent.
"Running somewhat counter to WTI, unleaded gasoline prices have stair-stepped higher this week, falling off only slightly today but still expected to settle higher on the week," Seng said prior to Friday's market close. "Despite a large drawdown in inventories last week, total motor gasoline stored in the U.S. continues to remain above its five-year average for this time of year."
Henry Hub natural gas fell by just one-tenth of one cent Friday. Friday's $2.865 settlement reflects a gain for the week of less than one percent.
"April natural gas futures have got to be feeling like Rodney Dangerfield of late," said Seng, referring to the late U.S. comedian who frequently complained that he got "no respect."
"Despite what seems to be wave after wave of frigid cold and snow hitting the U.S., along with very low storage levels, prices could only go up and down this week and not even crack the $2.90 level," continued Seng.
Seng noted that the EIA's latest Weekly Natural Gas Storage report revealed:
A slightly higher-than-expected withdrawal last week of 149 billion cubic feet (Bcf), with total gas in inventory now below 1.4 trillion cubic feet
Production last week at 88.2 Bcf per day (Bcfd) against demand of 117 Bcfd, with increases coming from the power, industrial and residential sectors
4.7 Bcfd in exports to Mexico and 5.1 Bcfd in LNG
7.1 Bcfd in pipeline gas usage, reflecting higher throughput from increased demand
"With a cold start to March in most of the country, stored gas now stands at 15 percent lower than a year ago and 25 percent lower than the five-year average," Seng noted. "Traders seem to be taking a very short-term stance on natural gas. Rather than put forward value into futures, it appears traders are willing to ignore high spikes in the daily cash markets."
Generated by readers, the comments included herein do not reflect the views and opinions of Rigzone. All comments are subject to editorial review. Off-topic, inappropriate or insulting comments will be removed.