Oil Prices Mixed at Midweek
by Matthew V. Veazey
|
Rigzone Staff
|
Wednesday, August 21, 2019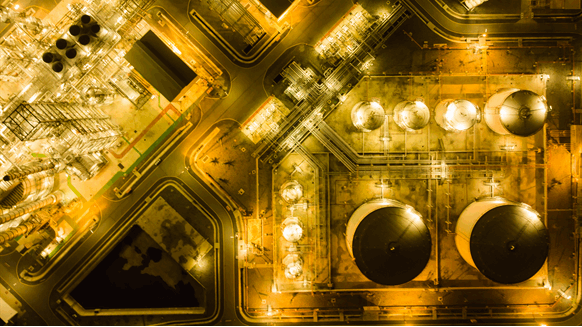 Brent crude finished higher for the fourth consecutive trading day while the WTI faltered.
Brent crude oil finished higher for the fourth consecutive trading day while West Texas Intermediate (WTI) faltered, capping off a three-day rally.
WTI for October delivery shed 45 cents during midweek trading to settle at $55.68 per barrel. The contract price peaked at $57.13 and bottomed out at $55.58. October Brent, meanwhile, rose yet again, adding 27 cents to settle at $60.30 per barrel.
Steve Blair, senior account executive with the RCG Division of Marex Spectron, told Rigzone that energy markets continue to be affected by outside factors affecting many commodities markets. Such influences include trade tensions between the United States and China, the potential for continued threats in the Strait of Hormuz and elsewhere in the Persian Gulf region and fears of an economic recession following the recent fall of U.S. 10-year Treasury Note yields below the two-year Treasury yield, he explained.
"The front-month September/October spread was trading near to flat after going into contango for a very short while and then returning to backwardation like the rest of the price curve," said Blair, noting that October WTI became the spot month when the September contract expired Monday. "WTI has had a nice wide range over the last five to six trading days from a low around $53.77 last Thursday to a high today approaching the resistance level at $57.40, as seen on the daily chart."
Referencing the above WTI chart, Blair also highlighted a downtrend line of resistance for Wednesday at $58.45 and support at around $53.67 and then at the $52.85 level.
Blair commented the Brent has moved within a "nice trading range since last Thursday, with a low at the $57.67 level – support seen at the $57.80 level – to a high near the $61.56 resistance level today as seen on both the daily and daily continuation charts."
In addition, Blair said that support for the Brent starts at the $58.95 level and at the same $57.80 level noted above. Moreover, he pointed out the October Brent/WTI spread has shrunk to more "normal" levels after beginning to narrow back in early August – when the arbitrage traded at approximately the $7 level (Brent over). On Tuesday, the arb traded at $3.49 – its narrowest level seen since March 2018, he added.
"Today it appears that some selling pressure on this spread coming into play as the spread traded around the $3.58 six times in the last seven trading sessions, and it appears some profit-taking of arb positions may be occurring," Blair continued, referencing a Brent/WTI futures spread chart. "Some minor support seen around the $5.00 level – Brent over – with much better support seen around $5.63."
Reformulated gasoline (RBOB) moved in the same direction as Brent Wednesday. The September RBOB contract added one cent to end the day at $1.69 per gallon.
"As we approach the end of summer in the U.S., gasoline prices are seen at the lowest levels that have been seen for a U.S. summer since 2017," said Blair. "On August 7 prices seemed to hit bottom at the $1.6126 level and have moved higher since."
On August 13, prices rose above the $1.6923 resistance level to indicate a breakout, he noted.
"However, it turned out to be a 'false' technical breakout and prices retreated back below the $1.6923 level until today," Blair added. "A close above that level should indicate a move higher to potentially the $1.7736 resistance level above the market seen on the daily chart."
September Henry Hub natural gas futures lost five cents Wednesday, settling at $2.17. Blair observed that natural gas prices have improved over the past week, thanks to above-normal temperatures in the Midwest, Great Lakes and Northeast regions of the U.S.
"However, price spikes have been limited as high domestic production as well as an expected cooling trend keep a lid on the price spikes," he noted. "Current forecasts show there may be a return to above-normal temps as we move into September, but that is too far away at this point and subject to too much change."
Citing a chart showing daily gas settlements, Blair said prices continue to stay in a fairly tight technical range with $2.115 and $2.070 major support levels, minor resistance at $2.195 and major resistance at $2.298.
To contact the author, email mveazey@rigzone.com.
Generated by readers, the comments included herein do not reflect the views and opinions of Rigzone. All comments are subject to editorial review. Off-topic, inappropriate or insulting comments will be removed.
MORE FROM THIS AUTHOR
Matthew V. Veazey
Senior Editor | Rigzone