Oil Prices Finish Higher Amid Mix of Factors
|
Thursday, December 12, 2019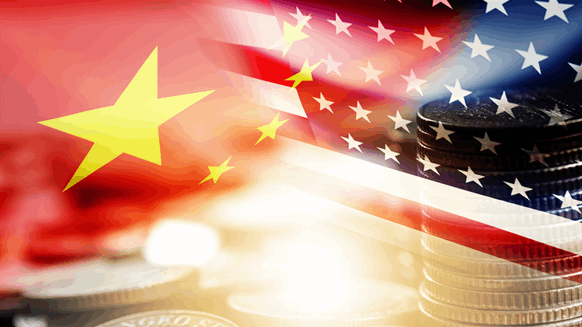 WTI and Brent crude oil finished higher Thursday, buoyed by reports of progress on the U.S.-China trade front and other factors.
West Texas Intermediate (WTI) and Brent crude oil finished higher Thursday, buoyed reports of progress on the U.S.-China trade front and other factors.
January WTI settled Thursday at $59.18 per barrel, reflecting a 42-cent gain. The benchmark traded within a range from $58.75 to $59.72.
Also rising Thursday was the February Brent contract, which added 48 cents to settle at $64.20 per barrel.
Traders have for months monitored developments in ongoing trade negotiations between the United States and China. On Thursday, various media reports stated that a tentative deal had been reached. Thursday morning, President Trump tweeted that a "BIG DEAL" with China was near.
"Crude oil is up today due to a combination of macro factors: China, OPEC cuts, easy U.S. monetary policy and decent inventory numbers," said Campbell Faulkner, senior vice president and chief data analyst with the interdealer commodities broker OTC Global Holdings. "All of these factors lead to a bullish view on the crude outlook in a relatively calm year-end market. Without any radical changes between now and New Year's, Brent and WTI will likely continue their slow climb."
Anish Kapadia, U.K.-based oil and gas consultant and managing director with Akap Energy Ltd., told Rigzone the most recent data from the International Energy Agency (IEA) show an above-normal decline in crude inventories for October versus the five-year average. Also he noted that November OPEC production was 300,000 barrels per day (bpd) lower month-on-month, driven by Saudi Arabia, Angola and Iraq.
"Given the fragile global economy, it was also positive to see no downward revisions to demand growth for 2019 and 2020, maintained at 1 million bpd and 1.2 million bpd, respectively," Kapadia said. "On the more bearish side Venezuela has shown some signs of a mild recovery in production, and Libyan production continues to surprise on the upside with further potential growth in 2020."
Reformulated gasoline (RBOB) posted a slight increase. January RBOB gained well under one cent, finishing the day at $1.63 per gallon.
Henry Hub natural gas for January delivery ended Thursday in positive territory, adding 8.5 cents to close at $2.33.
To contact the author, email mveazey@rigzone.com.
Generated by readers, the comments included herein do not reflect the views and opinions of Rigzone. All comments are subject to editorial review. Off-topic, inappropriate or insulting comments will be removed.