Oil Prices Fall Sharply
by Matthew V. Veazey
|
Rigzone Staff
|
Tuesday, July 02, 2019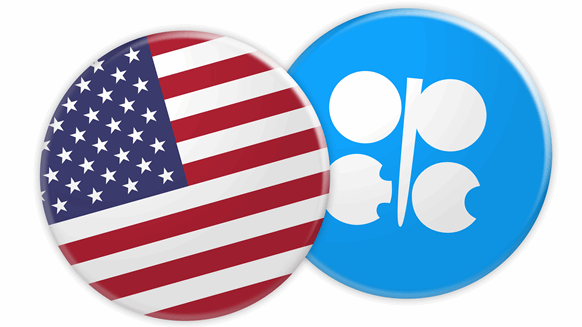 The WTI and Brent crude oil benchmarks lost more than four percent Tuesday.
The West Texas Intermediate (WTI) and Brent crude oil benchmarks lost more than four percent Tuesday.
August WTI futures slid $2.84, settling at $56.25 per barrel. Light crude peaked at $59.43 and bottomed out at $56.09.
Brent crude oil for September delivery lost $2.66 Tuesday to settle at $62.40 per barrel.
As a Bloomberg article posted to Rigzone earlier Tuesday reported, the OPEC+ alliance of oil-producing countries decided to extend limits on output into 2020. The group had initially agreed to the pact – a measure to stabilize the oil market – on Dec. 10, 2016. The latest move by OPEC+ extends the production limits to at least March 31, 2020, according to a written statement on OPEC's website.
According to post-decision commentary emailed to Rigzone by the Dutch bank ABN-AMRO, the OPEC+ decision to extend for nine months its production cut agreement of 1.2 million barrels per day (bpd) was expected. It will also cause OPEC to lose more market share to U.S. oil producers, stated Hans van Cleef, senior energy economist with ABN-AMRO.
Van Cleef observed that OPEC's Monthly Oil Market report indicates the cartel expects global oil demand to increase 1.1 million bpd this year. Because U.S. crude output is set to concurrently go up 2.1 million bpd, he reasoned that OPEC's market share will decline.
Because the actual news of the OPEC+ deal extension was not surprising, it provided limited support to oil prices, van Cleef noted. Instead, he stated that "disappointing manufacturing data" from the United States, China and Europe limited the upside for crude. The ABN-AMRO commentary also projects unchanged oil price forecasts but the potential for more volatility in the oil market. In addition, van Cleef predicted the market's focus will shift back to ongoing trade dispute between the United States and China.
"Last weekend a temporary trade truce was announced by president Trump and market sentiment has improved on the back of this," stated van Cleef. "However, our economists believe much of the damage from the trade war has been done. With oil price trading within our expected trading ranges there is no reason to revise our oil price forecasts at this stage. Fact is though that both geopolitics and market speculation regarding demand for and supply of oil could change the overall sentiment in a minute. With market liquidity about to drop significantly during the summer period, the risks of higher volatility are on the rise."
Reformulated gasoline (RBOB) also finished lower Tuesday. The August RBOB contract declined six cents to end that day at $1.87 per gallon.
Henry Hub natural gas fell for the third straight trading day. August gas futures lost settled at $2.24, reflecting a three-cent loss.
Generated by readers, the comments included herein do not reflect the views and opinions of Rigzone. All comments are subject to editorial review. Off-topic, inappropriate or insulting comments will be removed.
MORE FROM THIS AUTHOR
Matthew V. Veazey
Senior Editor | Rigzone