Oil Prices End Tough Week on Strong Note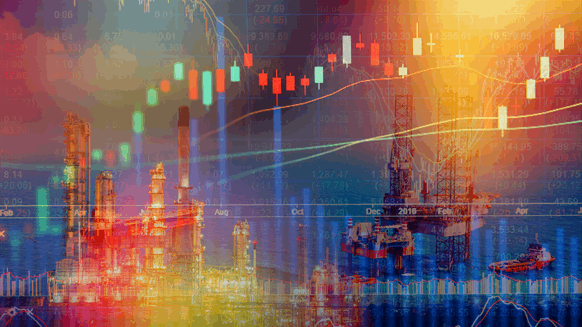 The WTI and Brent capped off a bearish week by posting strong day-on-day increases.
At the end of a week when crude oil officially entered a bear market, the West Texas Intermediate (WTI) and Brent benchmarks posted strong day-on-day increases.
The July WTI contract price gained $1.40 to settle at $53.99 per barrel. The WTI traded within a range from $52.62 to $54.32. Compared to the May 31 settlement, the WTI is up nearly one percent for the week.
Brent crude oil for August delivery also ended the day higher. The benchmark settled at $63.29 per barrel, reflecting a $1.62 gain for the day. Week-on-week, the Brent is up 2.1 percent.
As Bloomberg reported earlier in the day, oil traders were buoyed by reports that the Trump administration planned to resume trade negotiations with Mexico and that proposed U.S. tariffs on Mexican goods might be delayed. In fact, President Trump tweeted Friday morning "there is a good chance" a trade deal with Mexico is forthcoming. Trade tensions between the U.S. and Mexico, along with lingering challenges in U.S.-China trade, have contributed to oil demand concerns.
Oil market-watchers are also anticipating what the OPEC+ alliance will decide when it meets later this month. In a research note Friday, ABN-AMRO Senior Energy Economist Hans van Cleef opined that the group's 1.2 million-barrel-per-day production cut deal will likely hold until the end of this year.
"This would give OPEC time to see how global oil demand will evolve in the course of the year as trade tensions will continue to dominate the headlines," noted van Cleef. "Besides that, there is also more time to evaluate the level of production of sanctioned OPEC countries and to see whether the drop of oil prices would affect the crude offering/production."
Reformulated gasoline (RBOB) also edged upward Friday. The July RBOB contract gained three cents, ending the day at $1.74 per gallon. Compared to the May 31 close, however, RBOB is down 3.4 percent for the week.
Henry Hub natural gas also showed positive momentum Friday. July gas futures added more than a penny to settle at $2.34. Despite Friday's increase, however, gas is down 4.5 percent week-on-week.
Generated by readers, the comments included herein do not reflect the views and opinions of Rigzone. All comments are subject to editorial review. Off-topic, inappropriate or insulting comments will be removed.