Oil Prices End the Week Higher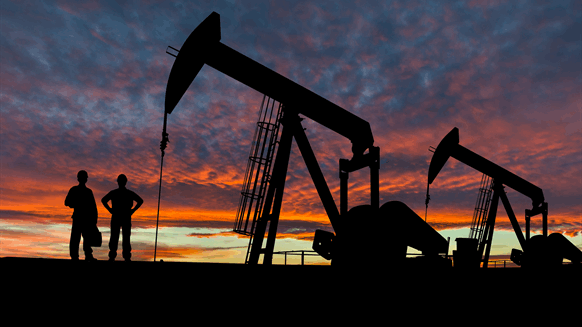 Price movements were positive again for the WTI and Brent benchmarks.
Price movements were positive again Friday for West Texas Intermediate (WTI) and Brent crude oil benchmarks.
May WTI futures added 31 cents to settle at $63.89 per barrel. The WTI peaked at $64.65 and bottomed out at $63.66 during the end-of-week session. Compared to last Friday's settlement price, the WTI is up 1.3 percent for the week.
Brent crude oil for June delivery finished north of the $71-mark for the second time this week. The Brent gained 72 cents Friday to end the day at $71.55 per barrel. Week-on-week, the Brent is up 1.7 percent.
Tom Seng, Assistant Professor for Energy Business with the University of Tulsa's Collins College of Business, observed that "five" has been a popular number in regard to oil prices lately.
"Oil extended its rally into the fifth week this week with supportive fundamentals and technical which lifted both benchmarks to five-month highs," Seng told Rigzone. "Both WTI and Brent consistently traded above what had been key resistance price levels of $60 and $70, respectively, and solidly above their one-year moving averages. In fact, the move higher has dragged along the shorter-term, five- and 10-year moving averages as well."
Continued concerns about tightening global supply largely spurred on an estimated 40-percent rise in oil prices since the start of 2019, Seng noted. He cited output curtailments by the OPEC+ group of oil producers, U.S. sanctions against Iran and Venezuela and civil war in Libya as contributing factors. In addition, he pointed out that the Wall Street Journal reported that OPEC production fell by 540,000 barrels per day (bpd) in March and the International Energy Agency (IEA) indicated global crude supply dropped 340,000 bpd last month.
"The U.S. slapped sanctions on oil tankers owned or operated by Venezuela's national oil company, PDVSA, in an effort to thwart deliveries of their oil to Cuba," continued Seng. "The self-proclaimed Libyan National Army marched on Tripoli in an effort to overthrow the current government, potentially leading to sanctions on the country's oil exports. The Trump administration's move to label the Iranian Revolutionary Guard as a 'terrorist' organization served to stoke more fears about further restrictions on Iranian oil sales."
Despite recent gains, however, Seng said that oil prices pulled back slightly on Thursday after the IEA reported that the demand outlook was sending "mixed signals" given pockets worldwide of sluggish economic development. Moreover, he noted that OPEC has cut its 2019 demand growth forecast to 1.2 million bpd – a 30,000-bpd decline. He also observed that the latest U.S. Energy Information Administration (EIA) figures show:
Average U.S. oil production of 10.96 million bpd for 2018, up 17 percent from the previous year and surpassing the previous record set in 1970
The 1.6 million bpd in new supply for 2018 came primarily from Texas, North Dakota, New Mexico, Colorado, Oklahoma and the Gulf of Mexico
A larger-than-expected, 7 million-barrel build in commercial crude inventories from the previous week; analysts had expected a 2 million-barrel increase
An increase in refinery utilization to 87.5 percent
A 15.5-percent decrease in U.S. oil imports year-on-year
A 1.1 million-barrel decrease in oil stored at the key Cushing, Okla., hub from the previous week
A week-on-week increase in U.S. oil production to 12.2 million bpd
Seng noted that the WTI/Brent spread stands at approximately $7.45 per barrel. He added that, on a technical level, the May WTI NYMEX futures contract faces possible retracement next week as prices remain above the 10- and 20-day and 12-month moving averages.
"However, that situation did not deter an extension of the rally this week," Seng added. "The 12-month moving average now becomes a key price support level going forward. Momentum indicators show the contract in an 'overbought' condition. Volume remains strong. The May WTI futures contract will expire on the 22nd."
Reformulated gasoline (RBOB) futures also rose Friday. The May RBOB contract increased by nearly one cent to settle at $2.04 per gallon. For the week, RBOB is 3.4 percent – the biggest gainer among the four benchmarks that Rigzone tracks.
"Unleaded gasoline futures rose higher for the third week this week on the back of higher oil prices and lower inventories," said Seng, adding that total gasoline inventories fell by 7 million barrels last week, hitting RBOB's five-year average for this time of year.
"Meanwhile, prices at the pump nationally are up about five cents per gallon from a week ago and up 10 cents from last year at this time," Seng said. "The futures market for RBOB is currently in 'backwardation,' where the prompt month contract is trading higher than the 'out' month, something which is very unusual for this time of year since demand for gasoline will only increase from June forward."
The May Henry Hub natural gas contract price shed less than a penny Friday to end the day at $2.66. For the week, gas futures are flat. In fact, gas futures are flat for the second straight week.
"May natural gas futures prices traded higher early in the week only to fall back again yesterday and today," said Seng. "This, despite another 'bomb cyclone' that spread across the upper-tier states this week. The 'summer' injection season is officially upon us and a small addition to inventory was reported for last week."
On a technical level, gas prices are near their five- and 10-day moving averages and below the 20-day moving average, said Seng. He added that the market is in an "oversold" market condition.
Generated by readers, the comments included herein do not reflect the views and opinions of Rigzone. All comments are subject to editorial review. Off-topic, inappropriate or insulting comments will be removed.