Oil Prices Edge Upward Amid Tug-of-War
by Matthew V. Veazey
|
Rigzone Staff
|
Thursday, October 25, 2018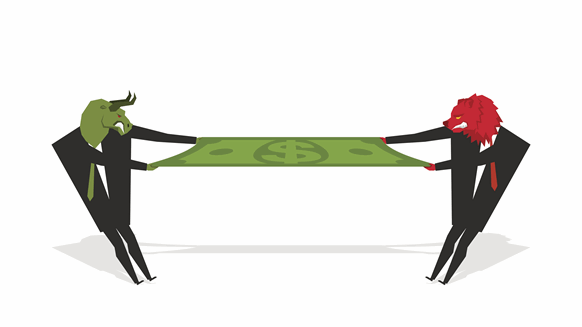 The slight uptick occurred as various factors continue to pull the oil market in different directions.
December West Texas Intermediate (WTI) crude oil futures rose by 51 cents Thursday to settle at $67.33 a barrel. The benchmark traded within a range from $65.99 to $67.65.
The December Brent futures price also ended the day higher, picking up 72 cents to settle at $76.89.
Thursday's slight uptick in crude prices occurs at a time when various factors are pulling the oil market in different directions, Robert Rapier, Chief Energy Analyst with Investing Daily, told Rigzone. However, he noted that the bearish sentiment is largely winning the veritable tug-of-war for now.
"On the bullish side, Iranian barrels are coming off the market, and it isn't clear that there is enough spare capacity to compensate for that," said Rapier. "Venezuela continues to be a mess as well, so there's no help coming from that direction. Finally, I don't think the market has yet fully come to terms with the fallout of the murder of journalist Jamal Khashoggi earlier this month."
Regarding the Khashoggi issue, Rapier noted that the international community is grappling with its determination to hold Saudi Arabia accountable and the reality that the Kingdom is the world oil market's single-most important entity.
"Given that more than 10 percent of the world's production comes from Saudi Aramco, they could do immense damage to the global economy should they choose to do so," Rapier explained. "It may seem far-fetched that they would use that kind of leverage, but it was also far-fetched that they would murder a journalist in their embassy. So this situation is still in flux, but it has potential to add volatility to oil prices."
At the bearish end of the spectrum, Saudi Arabia has tried to assure the markets that it will continue to be a reliable oil supplier and make up for lost Iranian barrels, Rapier continued. However, he said the most prominent bearish factor is the 25-million-barrel increase in U.S. crude oil inventories over the past five weeks.
"Regardless of everything else that's going on, that's the biggest bearish indicator, and in my opinion the one most responsible for the big drop in crude prices," Rapier said.
Also on Thursday, November reformulated gasoline (RBOB) posted another decline. The front-month contract fell by less than a penny to settle at $1.81 a gallon. The November Henry Hub natural gas futures price, however, gained nearly four cents to end Thursday's session at $3.20.
Generated by readers, the comments included herein do not reflect the views and opinions of Rigzone. All comments are subject to editorial review. Off-topic, inappropriate or insulting comments will be removed.
MORE FROM THIS AUTHOR
Matthew V. Veazey
Senior Editor | Rigzone