Oil Prices Down for the Week
|
Friday, January 24, 2020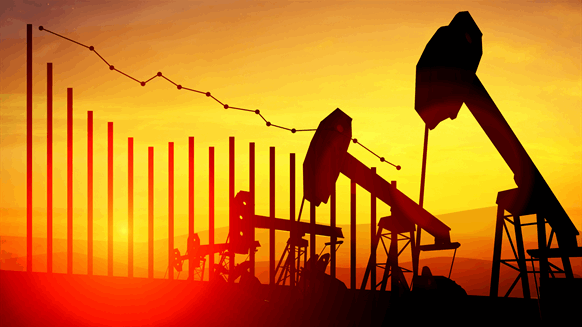 WTI and Brent crude oil prices faltered again Friday.
West Texas Intermediate (WTI) and Brent crude oil prices faltered again Friday.
The March WTI contract lost $1.40 Friday to settle at $54.19 per barrel. The light crude marker traded within a range from $53.85 to $55.95. Compared to the Jan. 17, 2019, settlement, WTI is down 7.4 percent.
March Brent ended the day at $60.69 per barrel also losing $1.35. Week-on-week, Brent is down 6.4 percent.
"It was a bad week for both grades of crude and natural gas as supply/demand fundamentals, along with concerns over a possible global pandemic, overtook any positive news and … February's downtrend in oil continued into March during a holiday-shortened trading week in the U.S.," said Tom Seng, Assistant Professor of Energy Business at the University of Tulsa's Collins College of Business.
Seng added that much mystery still surrounds the pros and cons of another factor that has influenced oil price movements recently: Phase 1 of a newly signed trade agreement between the United States and China.
"That uncertainty, coupled with concerns over the spreading of the coronavirus which initiated in China, hurt global economic markets," he said. "The Dow, S&P and NASDAQ are all down on the week coming off their historical highs from last week."
Noting that the 2003 SARS virus outbreak affected global travel and dampened demand for jet fuel and other transportation-related energy sources, Seng explained that fear of a similar coronavirus-related scenario has hurt crude oil and its distillates. He also pointed out that prices are plummeting despite reports that Libya's oil output is at its lowest level since 2011 after rebel forces shut down the country's largest oil field and stopped the flow of oil from a major pipeline.
Seng also observed that the latest Weekly Petroleum Status Report from the U.S. Energy Information Administration (EIA) showed:
A slight, 400,000-barrel draw in U.S. commercial crude inventories – in line with analysts' 300,000-barrel forecasts but lower than the American Petroleum Institute's report showing a gain
Despite the the crude draw, a 1.7 -barrel increase in domestic gasoline inventories that is four percent higher than the five-year average
A 1.2 million-barrel drop in distillate stocks – still at a 28-month high but two percent below the five-year average
Lower demand at U.S. refineries as utilization dropped 1.7 percent to 90.5 percent
A nearly 1 million-barrel drop in the amount of crude stored at the Cushing, Okla., hub to 35 million barrels, or approximately 45 percent of capacity there
Steady domestic crude product at 13 million barrels per day (bpd).
1
2
View Full Article
Generated by readers, the comments included herein do not reflect the views and opinions of Rigzone. All comments are subject to editorial review. Off-topic, inappropriate or insulting comments will be removed.