Oil Prices Down for the Week
by Matthew V. Veazey
|
Rigzone Staff
|
Friday, October 18, 2019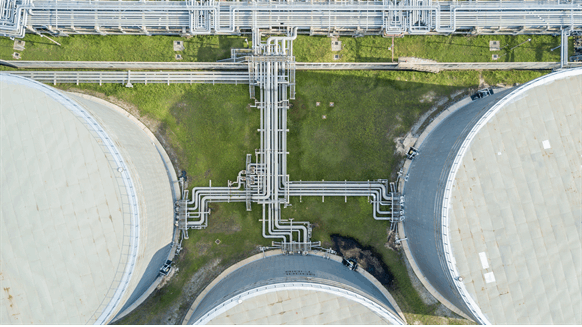 Both the WTI and Brent contracts are down approximately two percent.
West Texas Intermediate (WTI) and Brent crude oil futures edged downward during late-week trading.
The November WTI contract shed 15 cents Friday to settle at $53.78 per barrel. It peaked at $54.62 and bottomed out at $53.35. Compared to the Oct. 11 settlement, the WTI is down 1.9 percent.
Brent crude for December delivery also ended the day lower, losing 49 cents to settle at $59.42 per barrel. Brent is down 1.8 percent week-on-week.
"Oil prices this week moved up-and-down in-sync with the daily change in perspectives on both a U.S./China trade deal and a final UK Brexit plan," said Tom Seng, Assistant Professor of Energy Business with the University of Tulsa's Collins College of Business. "What at first seemed to be major progress between the U.S. and Chinese trade negotiators turned out to be only a minimal advance in concessions by both parties."
Seng noted the U.S. stock market rose and fell as daily expectations for a trade deal moved from optimism to pessimism and crude prices followed suit. He added that global markets closely monitored Brexit talks.
"While Prime Minister (Boris) Johnson seems to have gotten a deal approved, the Ireland question looms large as he will need the full support of the majority party from that region," Seng said, adding that gains in the British Pound over Brexit optimism helped weaken the U.S. Dollar and maintain a floor for crude prices.
In addition, Seng observed that U.S. and global manufacturing data have indicated a general slowdown in recent weeks – and further depressing the outlook for energy demand. Also, he noted this week's Weekly Petroleum Status Report from the U.S. Energy Information Administration (EIA) showed:
Commercial oil inventories rose by 9.3 million barrels (Bbl) last week, compared to forecasts calling for a 4 million-Bbl increase and American Petroleum Institute figures showing a 10.5 million-Bbl build
435 million Bbl of total crude in storage, or two percent higher than the five-year average
43 million Bbl of crude stored at the Cushing, Okla., hub, representing a 1.3 million-Bbl build and approximately 56 percent of capacity
A 2.6-percent drop in refinery utilization to 83.1 percent, equating to 15.4 million Bbl per day (bpd) and a 220,000-bpd decrease
An 18-percent year-on-year drop in crude imports
Steady U.S. oil production at 12.6 million bpd.
Seng also pointed out that EIA, OPEC and the International Energy Agency (IEA) have lowered their oil demand growth forecasts for the remainder of the year and increased their projects for inventory gains.
"The general consensus now exists that the OPEC+ group will have to make further output quota cuts in order to balance the market," he said. "The U.S. is sending additional troops to Saudi Arabia to help shore up its defenses surrounding critical oil infrastructure. Meanwhile the EIA is predicting that U.S. Gulf of Mexico oil production will hit a new high of 1.9 million bpd this year and 2 million bpd in 2020. However, production in the shale plays appears to be slowing down year-on-year with only a three-percent increase in rate this year."
Seng also noted the WTI/Brent spread is holding steady near the $5.60 level and that, technically, the November WTI NYMEX futures contract is trading right around its 20-day moving average but above its five- and 10-day moving averages.
"The contract is in an oversold position but moving toward neutral relative to overbought/oversold conditions according to momentum indicators," Seng said. "Today's volume is light at around 150,000 contracts. Activity is picking up in the December contract as November will settle next Tuesday and traders begin to roll positions forward."
Reformulated gasoline (RBOB) remained essentially flat Friday. November RBOB added well under one cent, settling at $1.62 per gallon. For the week, RBOB is down 1.2 percent. Seng noted that gasoline futures prices were range-bound this week and not trading as closely to crude oil as normal.
"U.S. inventories of total gasoline fell to 226 million Bbl, still on the high end of the five-year average for this time of year despite a drop in production last week," he said. "Average U.S. retail prices were 25 cents per gallon lower than last year at $2.63 per gallon while NYMEX futures prices are about 30 cents per gallon less than a year ago at $1.64 per gallon."
The November Henry Hub natural gas price also edged slightly upward, gaining less than one cent to close at $2.32. Gas futures are up five percent for the week.
"After an up-and-down week as well, November natural gas futures appear set for a gain on the week despite an inventory report that showed levels returning to their five-year average for the first time in two years," Seng commented. Some early cold fronts entering the U.S. helped to support prices, though."
Seng added the latest EIA Weekly Natural Gas Storage Report revealed:
An injection of 104 billion cubic feet (Bcf) last week against forecasts calling for 107 Bcf and a year-ago injection of 82 Bcf
3.52 trillion cubic feet of total gas in inventory, up 494 Bcf (16 percent) year-on-year and 14 Bcf (0.4 percent) higher than the five-year average
94 Bcf per day (Bcfd) of dry production compared to 81.5 Bcfd consumption, with a drop in the power sector offset by LNG exports
5.3 Bcfd of gas exported to Mexico and 6.6 Bcfd in LNG exports
"Technically, November natural gas is trading right at its five-, 10- and 20-day moving averages," concluded Seng. "Momentum indicators are showing a slightly oversold condition."
To contact the author, email mveazey@rigzone.com.
Generated by readers, the comments included herein do not reflect the views and opinions of Rigzone. All comments are subject to editorial review. Off-topic, inappropriate or insulting comments will be removed.
MORE FROM THIS AUTHOR
Matthew V. Veazey
Senior Editor | Rigzone