Oil Prices Down at Midweek
by Matthew V. Veazey
|
Rigzone Staff
|
Wednesday, September 11, 2019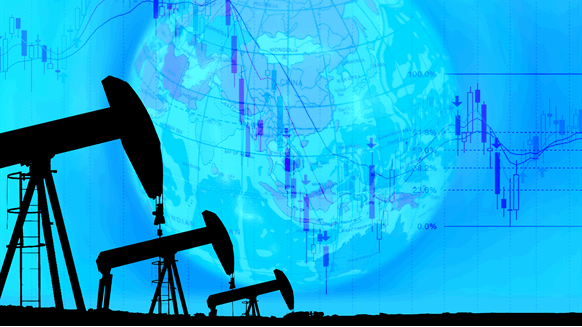 The WTI and Brent crude oil benchmarks fell more than two percent Wednesday.
The West Texas Intermediate (WTI) and Brent crude oil benchmarks fell more than two percent Wednesday.
The October WTI contract price lost $1.65 during midweek trading, settling at $55.75 per barrel. The light crude marker peaked at $58.30 and bottomed out at $55.61.
Steve Blair, senior account executive with the RCG Division of Marex Spectron, told Rigzone that this week's U.S. Energy Information Administration (EIA) domestic commercial crude inventory report showed a large drawdown that confirmed figures released Tuesday by the American Petroleum Institute.
Blair also pointed out demand for U.S. crude exports remains strong, aided by the fact that the WTI/Brent spread widened back out again after shrinking down to $3.46 on August 20. He added, however, that the U.S. dollar is seen as very strong – a negative factor for oil prices.
"On Monday October WTI broke and closed above a downtrend line of resistance that goes back to late April 2019 and on Tuesday prices seemed to confirm the breakout, even testing the line," noted Blair, referring to an October WTI daily chart.
November Brent settled at $60.81 per barrel, reflecting a decline of $1.57.
"November Brent had also gotten above its downtrend line of resistance but not to the extent that WTI had and, like WTI, prices fell back below the trendline today," said Blair
A daily Brent price chart provided by Blair shows the benchmark's movements relative to the trendline.
"Prices still remain just above the congestion range that it broke out of last week, and the market should find support near the $60 level," Blair noted.
Reformulated gasoline (RBOB) also faltered Wednesday. October RBOB lost two cents to end the day at $1.57 per gallon.
"October gasoline, like Brent, saw pricing fall back to the top of the congestion range that it had recently broken out of and support seen around $1.5750, with better support near the $1.5500 level," Blair said regarding the daily RBOB chart.
Also settling lower was Henry Hub natural gas for October delivery, which shed three cents to settle at $2.55. Blair observed that gas "saw a bit of a pullback today" after rallying from a low of $2.403 last Friday to a high of $2.648 Tuesday. The far right side of the daily gas chart illustrates the recent pattern.
"The market has come a far way since it broke out of the downtrend line of resistance at $2.293 back on September 4," said Blair. "We could see a bit more of a pullback, on a technical basis, to the $2.510 level and potentially further. Much of the rally being attributed to the combination of unexpectedly above-normal temps in many Lower 48 locations and short covering by the managed money and smaller speculator sectors."
To contact the author, email mveazey@rigzone.com.
Generated by readers, the comments included herein do not reflect the views and opinions of Rigzone. All comments are subject to editorial review. Off-topic, inappropriate or insulting comments will be removed.
MORE FROM THIS AUTHOR
Matthew V. Veazey
Senior Editor | Rigzone