Oil Prices Decline Amid US Crude Build
|
Wednesday, December 11, 2019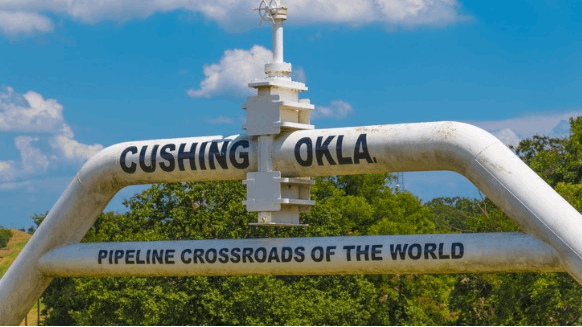 Both WTI and Brent crude oil futures edged downward at midweek.
Both West Texas Intermediate (WTI) and Brent crude oil futures edged downward at midweek.
The January WTI settled at $58.76 per barrel Wednesday, reflecting a 48-cent day-on-day loss. The light crude marker peaked at $59.22 and bottomed out at $58.11.
"January WTI has moved up over the last week into a slightly higher congestion range that it appears to be mired in for the last several days," said Steve Blair, senior account executive with the RCG Division of Marex Spectron, referring to a daily WTI pricing chart. "Minor support seen around the $58.72 level but major support seen at $57.8, $57.40 and then at $56.85. Resistance seen around $60.05 and then at the $60.25 level."
February Brent shed 62 cents to end the midweek session at $63.72 per barrel. Blair noted that it is showing chart patterns similar to WTI's, with support at $63.05 and then at $62.50 and resistance seen at $64.39 and then up higher near $65.98.
Blair also commented that the latest U.S. Energy Inventory Administration crude inventory figures Wednesday confirmed what the American Petroleum Institute had shown the previous day with an overall build in crude stocks.
Like crude oil, reformulated gasoline (RBOB) finished lower Wednesday. January RBOB lost nearly three cents to settle at $1.63 per gallon. However, he noted that inventories in Petroleum Administration for Defense District (PADD) 2 – the Midwest – dropped by 4.6 million barrels with stocks at the Cushing, Okla., storage hub down 3.4 million barrels.
"Cushing stocks have now draw by 7.3 million since the week ending Nov. 8," said Blair. "PADD 3 (Gulf Coast) stocks up 5.4 million this week and, coincidentally, crude exports seen at a large 3.4 million barrels per day (bpd)."
Blair also observed that petroleum markets "had an immediate and substantive downside reaction" with WTI and Brent each losing approximately $1 during the quarter-hour following EIA's release of the inventory report.
"Markets rebounded after traders digested the report as a whole, but prices never fully recovered back to levels seen prior the release," he said.
Reformulated gasoline (RBOB) also declined Wednesday, with January RBOB losing nearly three cents to settle at $1.63 per gallon. Referencing the latest EIA report, Blair pointed out that U.S. gasoline stocks were up 5.4 million barrels week-on-week and a "whopping" 17.6 million barrels since Nov. 8.
"Coincidentally, gasoline demand finally declined to more reasonable winter-type – non-holiday – levels at 8.882 million bpd and refinery run rates seen down 1.3 percent to 90.6 percent," said Blair.
Citing the daily chart for January RBOB, Blair observed that gasoline "continues to be under more pressure than its refined product sister" heating oil.
"Gasoline prices, however, have seen a very substantial range since October from around the $1.5600 level to as high as $1.6990," said Blair. "Current price seen right in the middle of that range and floundering a bit."
Henry Hub natural gas for January delivery declined two cents Wednesday, closing at $2.24.
1
2
View Full Article
Generated by readers, the comments included herein do not reflect the views and opinions of Rigzone. All comments are subject to editorial review. Off-topic, inappropriate or insulting comments will be removed.