Oil Prices Continue Descent
by Matthew V. Veazey
|
Rigzone Staff
|
Thursday, September 12, 2019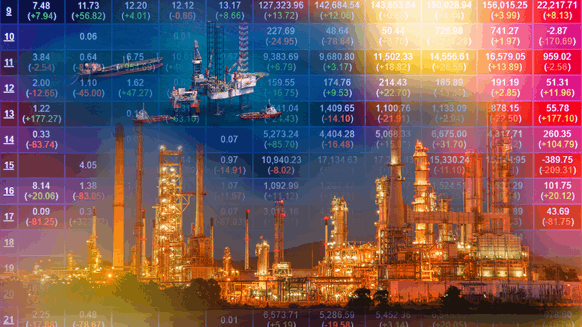 WTI and Brent crude oil declined for the second consecutive trading day Thursday.
West Texas Intermediate (WTI) and Brent crude oil declined for the second consecutive trading day Thursday.
October WTI futures lost 66 cents, ending the day at $55.09 per barrel. It fluctuated within a range from $56.34 to an even $54.
The November Brent contract price settled at $60.38 per barrel, reflecting a 43-cent decline.
Crude oil had been trading higher earlier Thursday on news that President Trump planned to delay by two weeks the imposition of new U.S. tariffs on Chinese goods, states a Bloomberg article posted to Rigzone. The news agency also referenced another recent potential sign of U.S. policy moderation following the departure of John Bolton from the U.S. National Security Advisor post.
On Tuesday of this week, Investing.com Senior Commodities Analyst Barani Krishnan told Rigzone that Bolton's exit from the White House could translate into a less hawkish position on Iran sanctions by the Trump administration. A more relaxed U.S. stance could also lead to more Iranian crude supplies on the world market.
"The U.S. could be a lot less restrained in pursuing an amicable outcome to the sanctions issue with Tehran," Krishnan said earlier this week, adding that Trump could use a deal with Iran as a foreign policy win on the campaign trail in 2020.
In another U.S. government move, the Energy Information Administration (EIA) again lowered its projected Brent oil price forecast. EIA now expects Brent to average $60 per barrel in the fourth quarter of this year – down from its earlier projection of $65. Moreover, the U.S. Department of Energy's statistical arm currently anticipates an average Brent price of $63.39 per barrel for 2019 instead of the $65.15 it previously predicted.
Reformulated gasoline (RBOB) moved in the same direction as the WTI and Brent Thursday. October RBOB fell two cents to settle at $1.55 per gallon.
Henry Hub natural gas for October delivery posted the only gain among the energy commodities that Rigzone tracks. The gas marker added two cents, closing at $2.57.
To contact the author, email mveazey@rigzone.com.
Generated by readers, the comments included herein do not reflect the views and opinions of Rigzone. All comments are subject to editorial review. Off-topic, inappropriate or insulting comments will be removed.
MORE FROM THIS AUTHOR
Matthew V. Veazey
Senior Editor | Rigzone