Oil Prices Bounce Back
|
Thursday, November 07, 2019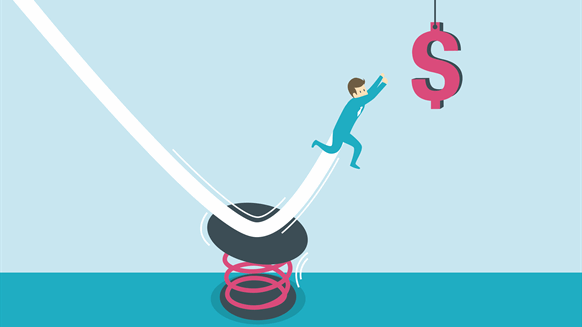 WTI and Brent crude oil prices returned to positive territory Thursday, buoyed by optimism on the international trade front.
West Texas Intermediate (WTI) and Brent crude oil prices returned to positive territory Thursday, buoyed by optimism on the international trade front.
The December WTI contract gained 80 cents Thursday, settling at $57.15 per barrel. The light crude marker peaked at $57.88 and bottomed out at $56.27.
Brent crude for January delivery settled at $62.29 per barrel, reflecting a 55-cent increase for the day.
"Oil prices were boosted by the potential resolution of the U.S.-China trade dispute, which has already been weighing on Chinese oil demand growth, as well as having knock-on effects on global demand," said Anish Kapadia, U.K.-based oil and gas analyst with Akap Energy Ltd. "On the supply side there is a growing realization that U.S. liquids growth in 2020 is likely to be lower than current forecasts as publicly traded E&Ps set out their 2020 drilling plans."
Kapadia added that OPEC – concerned about an oil market oversupply next year – may not decide to pursue further production cuts at its December meeting but will likely heavily emphasize stronger compliance.
Campbell Faulkner, senior vice president and chief data analyst at the interdealer commodities broker OTC Global Holdings, said phasing out tariffs as a result of a potential U.S.-China trade deal would counter a negative economic outlook.
"This bodes well for a global economy which has been battling weaker expectations and declining indicators," said Faulkner, adding a caveat. "But, oil as always remains ready to surprise with any uncertainty either economic or political instability."
Although crude traded down Wednesday following the release of a weekly oil inventory report showing unexpectedly large builds, the most recent figures from the U.S. Energy Information Administration (EIA) were not too bad, said Michael Roomberg, lead portfolio manager with Miller/Howard Investments' Drill Bit to Burner Tip Fund.
"The inventory report was less bearish than it seemed, in our view, as a big contributor was a drop in U.S. exports, a component of the data that is estimated – not actually observed – due to a lag," explained Roomberg. "Positive overnight headlines helped the commodity regain most of the lost ground. Oil prices are moving more steeply into backwardation, which is usually a bullish sign of physical tightness."
Also finishing higher Thursday was reformulated gasoline (RBOB). December RBOB added nearly one cent to settle at $1.635 per gallon.
Henry Hub natural gas declined for the second consecutive trading day. December gas futures lost just under six cents to close at $2.77.
"Natural gas initially rose on the (EIA) inventory report that showed stocks building less than expected last week," commented Roomberg. "Prices reversed these gains, however, after long-range weather models indicated a warmup in the Eastern U.S. during the third week in November, following next week's abnormal cold."
To contact the author, email mveazey@rigzone.com
Generated by readers, the comments included herein do not reflect the views and opinions of Rigzone. All comments are subject to editorial review. Off-topic, inappropriate or insulting comments will be removed.