Oil Hub of Fujairah Thriving Amid Rising Geopolitical Risk
|
Monday, October 07, 2019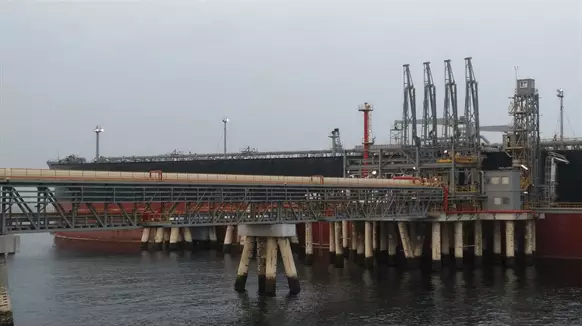 Fujairah has seen incremental investment as a port that bypasses the Strait of Hormuz which Iran has threatened to block. (Photo: Gaurav Sharma)
Driving around the burgeoning Middle Eastern oil shipping and storage hub of Fujairah in the United Arab Emirates (UAE), you wouldn't notice the region is on edge following simmering geopolitical tensions. Before drone strikes on neighbouring Saudi Arabian oil installations caught the world's attention in September, the Emirati port was already in the news, though perhaps not for reasons it wanted to be featured for.
In May, four tankers were attacked off Fujairah's coast in the Gulf of Oman. These included two Saudi Arabian registered oil tankers, a Norwegian registered oil tanker, and an Emirati registered bunkering ship; all of whom were anchored in UAE territorial waters for bunkering. In June, two more tankers were attacked in the same maritime corridor raising further alarm.
Akin to the drone attacks on Saudi facilities that followed, and despite claims by Yemen's Houthi rebels that they were responsible, blame has been apportioned on Iran by the U.S. State Department, European Governments and Saudi Allies. It's something Iran has denied with customary verbal belligerence and threats to close the Strait of Hormuz, Persian Gulf's maritime artery through which over 30 percent of the world's traded oil passes.
An oil tanker pulls into the Port of Fujairah, United Arab Emirates. The region is witnessing rising geopolitical tensions following a spate of attacks on oil shipping. (Photo: Gaurav Sharma)
But beneath the veneer of tension, Fujairah is eyeing opportunities ironically that very level of tension provides. From being a minor bunkering port in the early 1990s, investment at the turn of the current decade led to the establishment of large-scale shipping and storage operations.
They exist alongside a flourishing free-trade zone and ancillary services that have become thriving businesses in the Emirate; and all of it is underpinned by Fujairah's strategic location. Being one of the seven emirates that make up the UAE, it's the only one with a coastline solely on the Gulf of Oman and none on the contentious Persian Gulf.
The location coupled with close to ten years of incremental investment in infrastructure has given Fujairah the status of an insurance hedge. Conscious of potential flashpoints disrupting oil shipments and congestion in Gulf ports, sister emirates gave Fujairah a shot in the arm it had always craved – a pipeline to carry Emirati crude, backed by the Abu Dhabi government's International Petroleum Investment Company (IPIC), in the shape of the Habshan–Fujairah project which went onstream in 2012.
Today the pipeline has a capacity of 1.5 million barrels per day (bpd) and Fujairah itself has the capacity to handle 70 percent of the UAE's crude output. And as regional tensions rise, so does interest in the port. At the recent Gulf Intelligence Energy Markets Forum 2019 on October 1, Fujairah's annual energy jamboree, every regional heavyweight from Saudi Aramco to Abu Dhabi National Oil Company (ADNOC) lined up to pledge investment and trading outposts in the city.
Ibrahim Al-Buainain, Chief Executive of Saudi Aramco's energy trading unit, reaffirmed his interest in Fujairah whist declaring the company had "fully restored" output to "little bit higher" than 9.9 million bpd following the drone attacks.
1
2
View Full Article
Generated by readers, the comments included herein do not reflect the views and opinions of Rigzone. All comments are subject to editorial review. Off-topic, inappropriate or insulting comments will be removed.