Oil, Gas Companies Focus on Recruitment, Retention in the Permian
by Valerie Jones
|
Rigzone Staff
|
Tuesday, July 24, 2018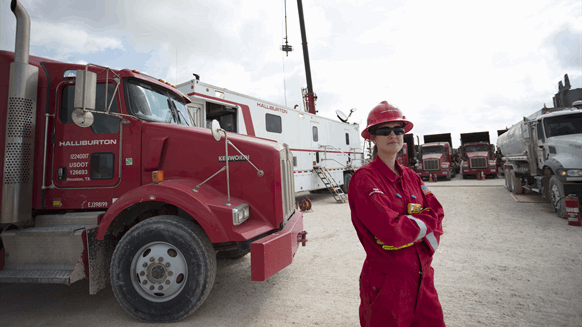 While Midland is enjoying low unemployment rates due to increased Permian activity, there is still high demand for oilfield talent. (Photo Courtesy of Halliburton)
[Editor's Note: This is the first in a three-part series exploring the working and living conditions for employees in the Permian.]
The lure of high wages and bustling activity are bringing workers to the Permian in droves. It seems companies can't get workers in the field fast enough to keep up with the latest shale boom in West Texas.
And in the cities of Midland and Odessa, unemployment rates reflect that.
Currently, Midland's unemployment rate is 2.1 (the lowest in the state) while Odessa's is 2.8 (among the top 10 lowest in the state).
"We're placing around 300 to 400 people a month in jobs in the area," Willie Taylor, CEO of Workforce Solutions Permian Basin – which encompasses 17 counties including Midland and Ector – told Rigzone. "About 65 percent of those jobs are in oil and gas, and oil and gas makes up about 32 percent of our industry sector."
Most of the hiring is by service companies who are looking for CDL truck drivers, oil pumpers and roustabouts, Taylor said.
Hiring signs dot the highways in Midland and Odessa.
Hector Gutierrez, Halliburton's district manager for the Permian Basin, told Rigzone that Halliburton is heavily recruiting and hiring for field operations – including operator assistant trainees, mechanical and electronic technicians, CDL drivers, field engineers – and support roles such as HR, recruiters and procurement personnel.
And they're venturing outside of Midland to find these workers.
"The Permian is probably at the lowest unemployment rate it's been for nearly two decades, so finding talent locally has really been a challenge," said Gutierrez. "It's forced us to expand our recruiting area, so we're now recruiting from areas such as South Texas, New Mexico, Houston and even as far as Mississippi."
Oil and gas professionals from all over the country have flocked to West Texas to take advantage of the robust sector.
Karl is one of those individuals. He and his wife moved to Midland from California because of the employment opportunities in oil and gas. He works for Peak Oilfield Services.
But even six-figure salaries aren't always enough to keep workers at the U.S.' busiest oil patch. Local housing shortages, family relocations and working conditions make retention an issue.
Halliburton has done several things to address retention, such as including sign-on bonuses for their operator assistant trainee position. The position also allows for retention bonuses.
"As that employee progresses through their career here, there are bonuses tied to that progression … this is to entice employees to stick around," said Gutierrez.
1
2
View Full Article
Generated by readers, the comments included herein do not reflect the views and opinions of Rigzone. All comments are subject to editorial review. Off-topic, inappropriate or insulting comments will be removed.
RELATED COMPANIES