Oil, Gas Automation Fuelling ABB Americas' Hunt for Digital Natives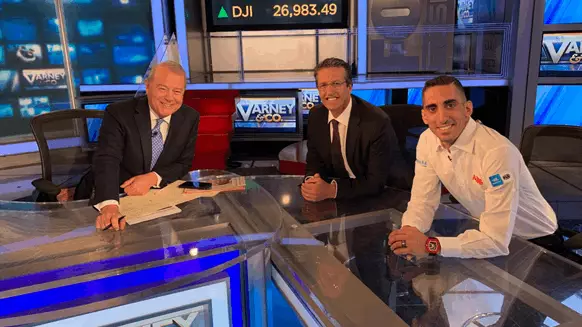 ABB's Head of Group Service tells Rigzone its ideal hires these days are disruptors capable of combining technology with deep domain expertise. (Greg Scheu,center; Photo credit: Fox Business)
The North American oil and gas industry is undergoing profound changes premised on improved operational efficiencies and better throughput in the current, and somewhat sustained, lower crude price environment.
This "digitally premised movement" is invariably bringing with it deep-rooted changes in hiring and re-skilling practices within the sector, according to one of the most senior executives in the ranks of Swiss robotics and energy industry vendor ABB.
Speaking to Rigzone, Greg Scheu, Head of Group Service at ABB and the company's former President of the Americas region, said: "As someone with an engineering background who has gone on into management, I believe digital is a movement that affects all aspects of the energy and manufacturing spectrum. With the proliferation of automation, robotics and artificial intelligence in these spheres, the quest is on for seeking people who want to disrupt things."
ABB has manufacturing facilities in 17 U.S. states, employs around 24,000 people stateside and nearly 36,000 personnel in the wider Americas.
Scheu added that while the recruitment parameters do involve "typical oil and gas deep data scientists or utility sector cybersecurity experts", the company's real challenge is to find the right talent comfortable with transformation, and rethinking business models and efficiencies.
"The default assumption is that ourselves (and our rivals and partners) are on the hunt for 'tech whiz-kids'. That's only part of the picture; what ABB Americas is attempting these days is embedding digital natives at different technical levels who can act as change agents within the company and for our customer base."
Neither naive nor utopian about automation
ABB, which works with leading U.S. oil and gas firms including many of the country's largest by market capitalization, is neither being naive nor utopian about industry automation, Scheu added. Rather from its Houston, Texas, hub at the heart of the U.S. energy industry, the company has a fairly "pragmatic approach" for its clients.
"Emerging automation processes are driving the industry towards autonomous rigs. Our growing team of 500 people in Houston has progressive views on facilitating and enabling this, but we are not naive enough to believe everything can be autonomous despite leading the world of robotics globally.
"If you look underneath the shell, energy and mining companies these days are all about big data and AI, eyeing resource maximization and throughput improvements. Often you will find industry vendors and partners driving that change in mentality along with the project sponsor via digital-human interface to generate value."
The company's solution – ABB Ability – deployed in 3,000 projects worldwide offers a case in point and provides a flavor of the Swiss company's energy division workforce in recent years.
"Our team's attempt is to combine technology with our deep domain solutions. For instance, one of the things we do to facilitate this is have remote collaboration centers. These centers can be linked through the cloud with an oil, gas or utility company's remote assets and their own operation centers. We can then window in with our knowledge of the equipment, combine with their operational apparatus and know-how to achieve previously unseen levels of output."
Onstream offshore and onshore rigs can be, and in many ways already are, floating 'microgrids', Scheu added. "We window in on the customer's offshore asset ranging from route planning for support ships to rig flow monitoring; and here's your new age digital engineer at work."
Greg Scheu, Head of Group Service, ABB
1
2
View Full Article
Generated by readers, the comments included herein do not reflect the views and opinions of Rigzone. All comments are subject to editorial review. Off-topic, inappropriate or insulting comments will be removed.