Revisiting A Recent Article on Marcellus Shale
Rigzone Staff
|
Thursday, September 16, 2010
My teenagers play a game with their friends that I call Telephone Charades (not sure if this is the real name for the game). In any event, the game starts with an easy concept that is drawn by one person for a second individual; who then writes down what they think the drawing depicts. The written guess is then passed on to another unknowing participant who then draws what they just read for yet another participant. After several iterations what you get is an outcome that in no way, shape, or form resembles the original concept (usually the final product is quite humorous). The game reminds me of the Norman Rockwell portrait "The Gossips".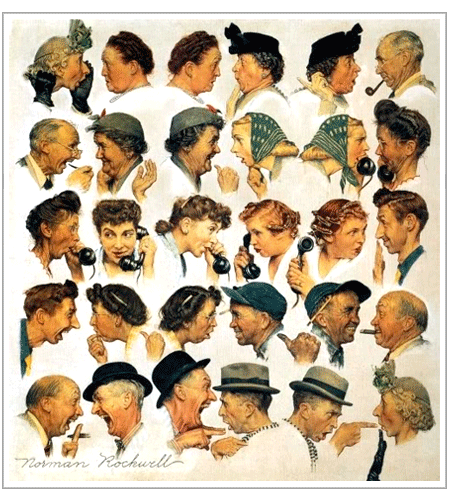 In an effort to nip a journalistic "telephone charade" in the bud, we draw your attention to a recent article we republished, "Musings: Gas Shales: Good News, Bad News," which based its commentary on an article from the Scranton Times-Tribune, "Marcellus Shale Production Data Exceeds Expectations". We spoke to one of the sources of the original article, Dr. Terry Engelder, to get a better sense of his thoughts on the Marcellus.
Dr. Engelder's discussed figures with the Times-Tribune in an attempt to frame the reporter's point of reference to the concept that measuring production profitability is not as straight-forward an exercise as just subtracting current revenue from current expenses. Armed with some crude math, Dr. Engelder was pointing out the obvious that up-front investments (i.e. capital expenditures) must also be considered so as not to overstate profitability.
It was this line of reasoning that was taken out of context in the original story to proffer up that Dr. Engelder estimated that natural gas production between July 2009 and June 2010 was worth $720 million and that well costs were much higher. Subsequently, the Musing's commentary we reprinted concerning the Marcellus Shale pointed to negative well economics due to the low natural gas prices in combination with rising well costs (supported by the production valuation estimate in the Scranton Times-Tribune piece and conventional wisdom that over 100 rigs drilling for 12 months would ultimately result in several billion in well costs). Given our conversation with Dr. Engelder, the opinions on well economics and the supportive estimates are well off the mark relative to Dr. Engelder's intended message.
The key points from our discussion with Dr. Engelder were two-fold. First, natural gas production from the Marcellus region is now supported by Pennsylvania data showing results that are higher than what the industry anticipated two years ago. This translates into a decline curve that is not as steep as previously anticipated (a significant positive for investors in the region). Second, the payback for capital intensive industries, like natural gas, is a multi-year process with current production being just one of several variables in the profitability equation.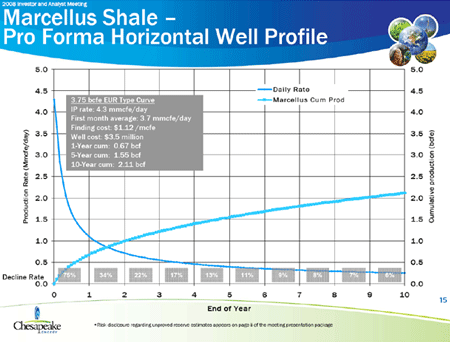 Based on the above well profile we can see that original expectations by Chesapeake called for cumulative one-year production of 0.67 billion cf. This was believed to be a very optimistic estimate at the time. Using the gas production data provided by Pennsylvania Department of Environmental Protection (which points to daily production of nearly 1.95 million cf or annual cumulative production of 0.71 billion cf per well), Chesapeake's estimates actually were slightly on the low side. Several companies operating in the region have recently raised their expectations for estimated ultimate recovery (EUR) rates. The twelve months of data provided by PA certainly lends credence to their improved recovery projections. While the argument can be made that shale gas well economics are not what they used to be, a wholesale declaration that current natural gas prices are not economical (i.e. capital destroying decisions) is not accurate based on the commentary of many publicly-traded companies. They point to regions in the Marcellus where double-digit ROIs (even at sub $4 pricing fixed for the life of wells) are possible based on current conditions.
Generated by readers, the comments included herein do not reflect the views and opinions of Rigzone. All comments are subject to editorial review. Off-topic, inappropriate or insulting comments will be removed.